Zimbabwe: milestones in a rocky history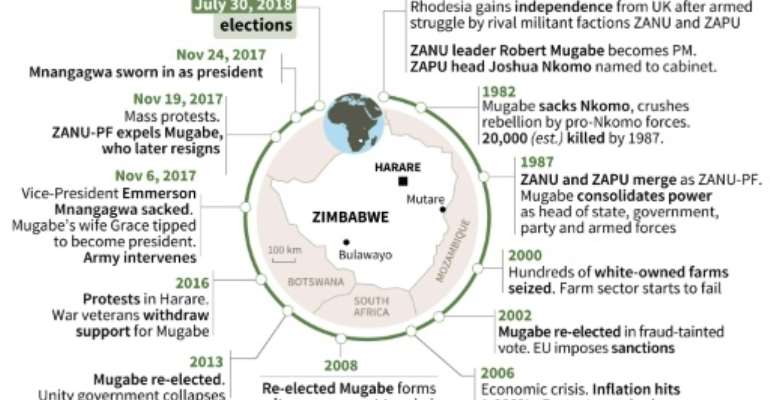 Here is an overview of the history of Zimbabwe as it goes to the polls Monday to elect a successor to ousted president Robert Mugabe.
From Rhodesia to Zimbabwe
As Southern Rhodesia, the British colony unilaterally declared independence in 1965 under prime minister Ian Smith.
Britain did not recognise the move, a bid to safeguard white minority rule.
Rhodesia was drawn into a war (1972-1979) between the minority regime and nationalist blacks that left 27,000 people dead.
Negotiations led to elections in 1980, won by the ZANU party of nationalist leader Robert Mugabe who became prime minister.
The country secured internationally recognised independence, taking the name Zimbabwe.
Matabeleland massacres
In 1982 Mugabe dismissed cabinet minister Joshua Nkomo, a brother-in-arms during the independence struggle but from the rival ZAPU party, after he was accused of plotting a coup.
There was armed resistance in Nkomo's stronghold of Matabeleland; the government responded with a crackdown in which at least 20,000 people were killed.
In 1987 Mugabe became president after the constitution was changed. Two years later his party merged with ZAPU to form the Zimbabwe African National Union-Patriotic Front (ZANU-PF).
White farms seized
Veterans of the independence war and squatters began in 2000 a violent campaign, backed by Mugabe, to seize white-owned farms, taking ownership without compensation.
More than 4,000 of 4,500 white farmers were stripped of their property, the officially stated goal being to reclaim land taken by the white colonialists.
The land seizures plunged Zimbabwe into a deep economic crisis.
Opposition backs off
Mugabe was re-elected president in a 2002 poll marred by violence and widely denounced as rigged. Western sanctions were imposed.
In 2008 the ZANU-PF was defeated in parliamentary elections by the Movement for Democratic Change (MDC), whose leader Morgan Tsvangirai won the first round of the presidential vote.
However Tsvangirai withdrew from the second round, citing violence and intimidation, and Mugabe won a new term. He was reelected in 2013.
The EU started normalising relations with Zimbabwe, lifting most of its sanctions.
Wife promoted, rivals purged
In 2014 Mugabe appointed his wife, Grace, to head the influential women's wing of the ZANU-PF, propelling her into the party's powerful politburo.
Aged in his 90s, Mugabe purged potential successors including vice president Joice Mujuru, who was replaced by justice minister Emmerson Mnangagwa.
In 2016 the MDC gathered more than 2,000 demonstrators in Harare in the biggest anti-Mugabe march for a decade.
On November 6, 2017 Mugabe also fired Mnangagwa, putting Grace in prime position to succeed him.
Mugabe forced out
After a military demand for a stop to the purges, army tanks took up positions in Harare overnight November 14-15 and Mugabe was put under house arrest.
Four days later the ZANU-PF sacked Mugabe as leader and expelled his wife.
On November 21 Mugabe bowed to pressure to quit, ending 37 years in power, with a process to impeach him under way.
Mnangagwa elected
Three days later Mnangagwa was sworn in as president, promising that elections due in 2018 would go ahead as planned.
Veteran opposition leader Tsvangirai died of cancer in February 2018, leaving MDC party in tatters ahead of the vote.
In June Mnangagwa survived a blast at a ruling party election rally in the opposition stronghold city of Bulawayo. Two of his bodyguards were killed.