'The Crocodile': Emmerson Mnangagwa, Mugabe's nemesis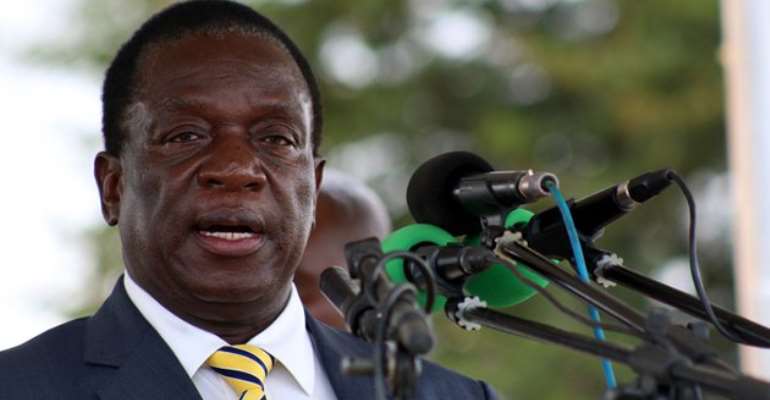 President Emmerson Mnangagwa is a military-backed veteran hardliner who outmanoeuvered Robert Mugabe and who now promises a fresh start for Zimbabwe.
Monday's election offers Mnangagwa -- nicknamed "The Crocodile" -- the precious chance of legitimacy after he was appointed president with the generals' support when Mugabe was ousted last November.
It was his battle to secure the top job ahead of Mugabe's wife Grace that triggered the crisis that finally toppled the long-serving president.
When Mnangagwa, 75, was dismissed as vice president by Mugabe, it looked like he lost out to the first lady.
In fear of his life he made a dramatic escape across the border to Mozambique.
His son, who was with him, described Mnangagwa sitting at a bus stop wearing a dusty suit and tattered shoes after a nighttime mountain trek into Mozambique. He had no belongings except a briefcase full of dollars.
But the situation turned on its head within weeks when the military chiefs launched a brief takeover and Mnangagwa emerged as their chosen successor.
With the nation still reeling from Mugabe's demise, Manangagwa made a triumphant return home and was sworn in as president after ZANU-PF lawmakers swung behind him.
"I never thought he whom I have nurtured, brought into government... that one day he would turn against me," said a mournful Mugabe afterwards.
Mugabe's closest ally?
Mnangagwa's rise to the presidency came after decades of working closely with Mugabe since Zimbabwe won independence from Britain in 1980.
He held a string of cabinet positions -- but relations between him and Mugabe were not always easy.
In 2004, he lost his post as administrative secretary in the ruling ZANU-PF after being accused of angling for the post of vice president.

Profile of Emmerson Mnangagwa, former close Mugabe ally and minister who ousted him as president is favourite to win Monday's election. By Vincent LEFAI (AFP/File)
But he was soon back in favour, and in 2008 served as head of Mugabe's election campaign.
Mugabe lost the first round vote, and Mnangagwa allegedly supervised the wave of violence and intimidation that forced the opposition to pull out of the run-off vote.
He was targeted by EU and US sanctions, and handed control of the powerful defence ministry in the troubled power-sharing government formed in 2009 before becoming vice president in 2014.
On the campaign trail, Mnangagwa has stuck to his oft-repeated pledge to revive the moribund economy, tackle the chronic mass unemployment, re-engage with the West and attract foreign investment.
"We have opened Zimbabwe to investors," he told one recent rally. "We are now standing on the dawn of a new Zimbabwe our children will be proud of."
Since taking office, he wears a striped scarf in Zimbabwe's national colours at almost public appearances, and has tried to fashion himself as a down-to-earth politician.
The target of several apparent assassination attempts in his life, Mnangagwa's electioneering was almost ended by a blast at a rally in June that killed two people as he left the podium.
Massacres allegation
He also nearly died last year after allegedly eating poisoned ice cream made by his archrival Grace Mugabe's dairy, and was urgently flown to neighbouring South Africa for emergency treatment.
Laconic and thick-set, he describes himself as a born-again Christian, believes there is some role for evicted white farmers in the new Zimbabwe, and says he abstains from alcohol for six months each year.
Born in 1942, Mnangagwa completed his early education in Zimbabwe before his family relocated to neighbouring Zambia.
In 1966, he joined the struggle for independence from British colonial rule, becoming one of the young combatants who helped direct the war after undergoing training in China and Egypt.
His "Crocodile" nickname can be traced back to his ferocious "Crocodile Gang" guerrilla unit in the conflict.
After blowing up a train, he was arrested in 1964 and sentenced to death, later commuted to 10 years in prison because of his young age -- leaving him a life-long vocal opponent of the death penalty.
Following independence in 1980, he allegedly was partially responsible for a brutal crackdown on opposition supporters that claimed thousands of lives in the Matabeleland and Midlands provinces.
The Gukurahundi massacres remain the biggest stain on his reputation.
Since coming to power, he has brushed off calls to apologise and questioned the 20,000 death toll estimate, though he said he had already set up a commission to address the allegations.
"What has happened has happened," he said, admitting it was "a bad patch" in Zimbabwe's history.