The Adventure In Futility By Prof. Avoke And His Bandwagon At The Cape Coast High Court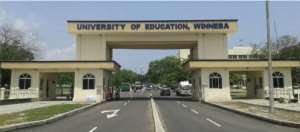 On the advice of the Supreme Court in its judgment on the University of Education, Winneba (UEW) in December 2017, Supi Kofi Kwayera (applicant), returned to the Winneba High Court and commenced proceedings against the University of Education, Winneba (UEW), and others.
The Winneba High Court delivered its judgment on the issues brought before it by Supi Kwayera earlier this year. The Court held among several others that, the appointments of Prof. Mawutor Avoke, as Vice-Chancellor (VC) of UEW, and Dr. Theophilus Senyo Ackorlie, as Finance Officer (FO) of UEW, had no legal basis, and therefore declared their appointments as null and void.
With this judgment, the Governing Council of UEW should have dismissed the said officials long ago, and handed them over to the Attorney- General (AG), for possible criminal prosecution, as a result of alleged violations of the Public Procurement Act 2003 (Act 663), as amended, in the award of multiple contracts to Proteus Ltd, Sparkx (SM) Gh Ltd, Paabadu Construction Ltd, etc.
The UEW Governing Council, even though armed with all the necessary and incidental powers under the University of Education, Winneba Act 2004, (Act 672), to make a pronouncement on the said officials, based on the Winneba High Court decision, together with its own Fact-Finding Committee Report, delayed taking a decision in this regard, due to Prof. Avoke and others, including Dr. Frimpong Duku (Kaakyire) who is not among the interdicted officers, and who, for whatever reasons, that he alone can explain, brought an action against UEW, at the Cape Coast High Court.
Among several reliefs being sought by the applicants at the Cape Coast High Court, is the reinstatement of the interdicted officers.
In a previous publication, I referred to some dethroned executives of the University Teachers Association of Ghana (UTAG) UEW Chapter, as educated illiterates, and I have been vindicated. Under what circumstance or capacity, is Dr. Frimpong Duku suing UEW at the Cape Coast High Court? Is he among the 6 interdicted officers?
The Cape Coast High Court has no power to overturn the Winneba High Court decision. The 1992 Constitution provides for only one High Court, with liberty to the Chief Justice (CJ), to create additional High Courts, as and when necessary. In this regard, even if the Cape Coast High Court, decides that the said interdicted officers should be reinstated, such a decision is not final and subject to appeal. Even the almighty Supreme Court decision, is subject to review. Those who insanely believe that they can "create, loot and share" public funds, and attempt to buy their way out of justice with the said looted public funds, will surely go down with their accomplishes, Insha Allah! Anas Arimeyaw Anas is still in first gear, and his 'vehicle', is equipped with 16 gears.
The advice of Prof. Raymond Atuguba, to his clients not to appear before any Committee set up by UEW, as part of its internal disciplinary processes, to give some alleged erring staff, the opportunity to present their case, is interesting.
I challenge Prof. Raymond Atuguba, to quote the law that provides that the current Governing Council of UEW, has no legal authority.
Anyway, whether those officers appear before any Disciplinary Committee of UEW or not, has no impact whatsoever in the smooth administration of UEW. Prof. Atuguba has to be reminded that, the laws of Ghana makes provision for individuals to be sentenced in absentia. If he has never heard this in his entire legal carrier, he knows where to find me.
Any corrupt public official, who circumvents the Public Procurement Act 2003 (Act 663) as amended, to skew contracts for his cronies, in order to take a ten percent cut, and proceed to fleece the contractors in question further, by housing them in their ill-gotten properties, and charging them exorbitant rent, should better seek objective, reasonable and sound legal advice from Mrs. Charlotte Osei, the former Chairperson of the Electoral Commission (EC), who is awaiting criminal prosecution for violating the Public Procurement Act 2003 (Act 663) as amended. The old adage says that: "experience is the best teacher". A word to the wise ...........
Alhassan Salifu Bawah
(son of an upright peasant farmer)