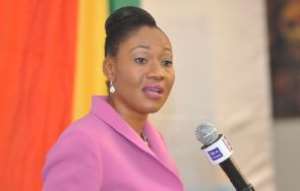 ABANTU for development and the women manifesto coalition has lauded Mrs. Jean Mensa's nomination to chair the Electoral Commission, as an important symbol of the continued relevance of women's leadership. According to the group, Mrs. Mensa has done honour to herself and to all women in being recognised and valued as capable and competent in providing leadership at the highest level of Ghana's electoral decision-making space.
In a congratulatory Joint press statement released by ABANTU and Women Manifesto Coalition (WMC), the group stated that "Mrs. Mensa has been a strong advocate on the issues and demands of the Women's Manifesto for Ghana. Over the years she has demonstrated through her leadership of the Institute of Economic Affairs (IEA) that national democratic governance is directly linked with the quest for women's rights and gender equality. She has therefore actively forged effective collaborative relationships with the WMC though the IEA's platforms on political parties and economic development".
If confirmed she will become the second woman to ascend to this high position of superintending over Ghana's electoral institution, following Mrs Charlotte Osei whose appointment was terminated by the President, H.E Nana Addo Danquah Akuffo Addo.
The Women's Manifesto for Ghana recognises the difficulties associated with such a combative position trying to satisfy strong diverse political viewpoints.
But WMC is confident that her solid track record of being firm and fair, will continue to be the basis for delivering the best in every difficult situation in the country's electoral system.
"It is our hope that her nomination as the Electoral Commissioner will be backed by her many years of considerable diverse competencies accumulated in different public engagements."
They stated that, in addressing some of the most crucial electoral issues, they believe she will be guided by the country's Constitution, laws and regulations that give credence to fairness, greater equality, equity and social justice.
They assured her that ABANTU and the Women Manifesto Coalition (WMC) jointly rejoice with her in this hour of triumph and are confident of her nomination and look forward to her confirmation that will enable her propel the Electoral Commission to greater heights in our quest for women's rights and democratic governance in Ghana.
The women Manifesto of Ghana is a political document that set out critical issues of concern to women in Ghana such as the under representation of women in politics, policy and decision making levels in Ghana. The Manifesto was put together by the Women Manifesto Coalition and ABANTU for Development in 2004.