How Geographical Clustering Of Diseases Poses Puzzle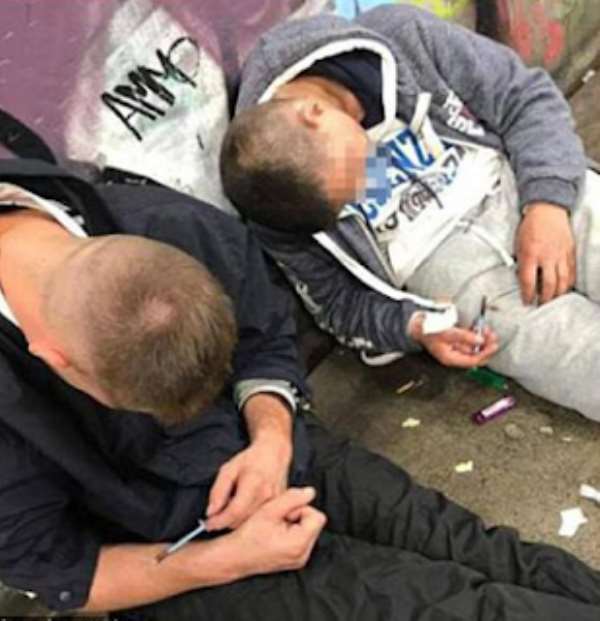 Two young heroin users
In the United States of America and Europe, people are regarded as the second biggest risk groups behind homosexual men. In the middle of 1992, in the USA, drug users represented 29% of the 226,281 people infected up to that time.
At the end of March 191, in Europe, they accounted for 26.8% of the 21,57 cases of Aids patients reported. The Aids-causing agent is said to be transmitted from homosexuals to people as a result of the joint use of syringes.
This would have to happen in each town habouring such infected people. However, the geographical distribution of Aids patients shows that the alleged mode of transmission cannot be responsible for the varying numbers of the infected people.
A homosexual man had to have infected five heterosexual people fifteen times more than in San Francisco and Los Angeles with 0.3. The proportions are similar in countries of Europe. A connection between the existence of Aids among homosexuals and persons can't be statistically deduced for the different countries in Europe.
The joint use of syringes to be excluded as a mode of mass infection.
If the joint use of syringes by is supposed to be the source of infection, then all places where HIV has occurred among people, the number of HIV-infected people must constantly rise. Yet, it does not in this manner. Whilst a large proportion of people had HIV-antibodies. In New York City there was 61% out of 280 patients examined.
In Baltimore, Maryland, there was 29% out of 184. The percentage in Denver, Colorado was 5%, in San Antonio, Texas, there was 2% and in South Carolina, was only 1.5%. In Tampa, Florida, none of the 102 examined patients had HIV antibodies.
The question whether they had already commonly shared syringes with other people was confirmed by the majority of 7 0% of persons in New York, 97% in South California and 99% in San Antonio. HIV-infected people from the area with a widespread distribution of HIV do not represent a higher potential of infection in new areas where HIV has not spread.
Obviously, HIV gets into users of forbidden drugs in specific areas only, mostly in New York. In a town where HIV is widespread among homosexuals, of whom some come under persons classified 'risk group,' a considerable number of heterosexual people would also become infected after a certain period of time, but this is not the case.
HIV-infections are not transmitted in Los Angeles through the shared of syringes. Even for this alleged transmission, the degree of the skin darkness plays a decisive role.
In New York, it is known that 82% of white people and 68% of black people commonly share syringes, yet, 56% of white people are HIV-infected as opposed to 62% of black people.
Of this 21 % of the white and 27% of the black never shared needles.