NADMO, Stakeholders Hold Validation Workshop For National Flood Contingency Plan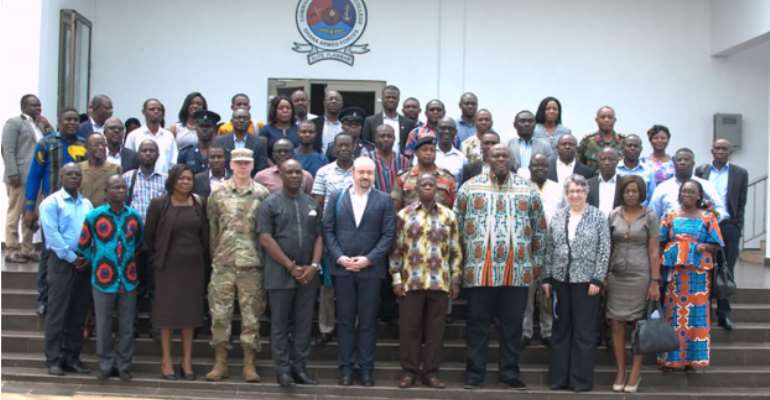 A two-day intensive validation workshop for National Flood Contingency Plan for Ghana which begun on Monday July 23 2018, has ended at the Ghana Armed Forces Command and Staff College (GAFCSC) in Accra.
The exercise which was jointly organized by the National Disaster Management Organisation (NADMO), its stakeholders and other development partners saw participants from the 48Engineers Regiment of the Ghana Armed Forces, Ghana Ambulance Service, Ghana National Fire Service, Ghana Police Service, Ghana Meteorological Services, The Geological Services Department, National Communication Authority and the Information Services Department amongst other.
Addressing the participants at a brief opening ceremony, the Deputy Minister for the Interior, Hon Henry Quartey said ''National Contingency Plan for floods management which guides coordination for effective and appropriate response of various agencies to flood emergency is due for review therefore such a plan requires regular review and revision to take into account changing trends and realities .This two day meeting is to validate the final draft of the National Contingency Plan for responding to flood emergencies in Ghana.''
In a speech read on behalf of the Director General of NADMO by the Deputy Director General for Technical and Reforms, Mr. Seji Saji noted '' Coordination among key players for response has been very challenging with different actors (government and non-governmental) therefore the UN system having identified this set-back in the nation supported NADMO to review the existing National Contingency Plan with more emphasis on floods. The new Contingency Plan is aligned with the "Cluster" or "Sector" System which is the UN's best practice and approach to humanitarian crisis response.
He expressed gratitude to the UNRC's (United Nations Resident Coordinators) office and the Inter-Agency Working Group on Emergencies in Ghana for the support and urge all participating Agencies present, especially the "Sector Leads" to take ownership of the validation process and guide discussions to ensure in making the plan a true national property at the end of this workshop.
The UN Resident Coordinator Christine Evans-Klock in her remark urged participants to actively participate in the process because this document will go a long way to help the nation.
The two day workshop brought together various expertise in the area of WASH, Education, Logistic, Shelter, Protection and Health, Food and Nutrition in order to validate the document with their rich experience should floods occur.
Representatives from various groups were given the opportunity to present on the reviewed document for acceptance by the house for further considerations in order to be accepted as a National Flood Contingency Plan.
Also present at the workshop were the Deputy Director Generals of NADMO, Directors and other representatives from NADMOs development partners.