Mourning The Man With Unblemished Moral Identity; Paa Kwasi Amissah Arthur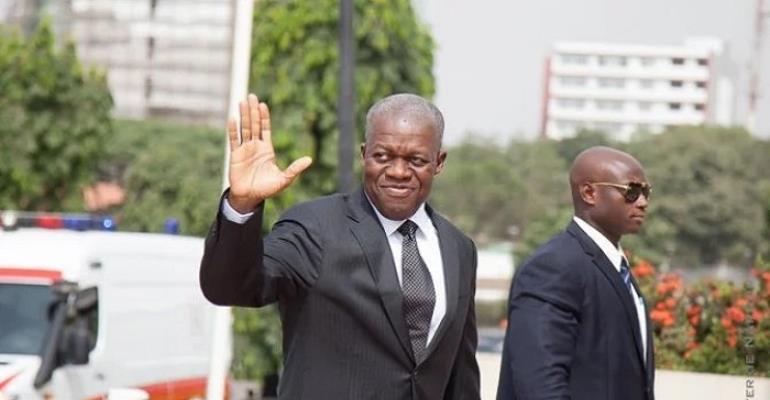 I have hardly associated myself with the popular saying that "good men don't live longer" because on the radar of principles of fairness I find it quiet offensive and morally derogatory but gradually we have grilled through stiff circumstances which all sought to justify this claim.
I know of lucky Dube, Nelson Mandella, Prof. Mills and even Jesus Christ, a man young packaged with greatness, he was cruelly subjected to public mortification before pinning him to the crucifix to suffer "death of humiliation"
When your name was called as Vice President to President Mahama, many expressed worry about you, sir not because you didn't have the capacity to serve but many expressed pity for you on the basis that your calm disposition would mar and undermine your new designation as veep because Ghana Politics is a known terrain of survival for the vociferous majority, so stepping into such a slippery political arena with your gentlemen nature, many thought you wouldn't survive but contrary to those genuine sentiments you proved everyone wrong.
P K as many of your close confidantes called you, you carved your own unique path, your calm disposition and the gentleman niche never got soiled and across the political divide you won the hearts of many no wonder everyone is here today to pay their final respect even to your lifeless-body because sir you deserve it.
You were one of the few who taught us, we the young ones who are now climbing the political ladder that, we can be different, we can do politics and still be of ourselves.
Sir your death came as a shock to everyone and I'm particularly numbed with a feeling of incredulity because l had the opportunity to meet you on the
Wednesday, surprisingly you didn't leave any impression or sign that were leaving on early Friday morning, at least you could have said something sir, your wife said same, she said, she was with you on the Friday morning, but sadly left her to assume the status of a poor and shattered widow, without a word, sir l know you had wished to say something, but you were overwhelmed, so we forgive you for that even though that wasn't fair respectfully.
On that fateful Wednesday, you laughed and embraced many people on that fateful evening but none of your friends harboured the least suspicion that, that was a goodbye call.
But life they say is a mystery no man can fully demystify, life has its own prescriptions and we humans cannot influence the unseen hand of fate but accommodate and live with it.
It's with this conviction that we have come here today to commemorate and celebrate you even though you can neither hear or see us, but hey sir, you deserve it. You served your country with finesse, with unstrained passion of patriotism, you treated humanity with a measure of equality, you loved your country and your family.
Sir if you can see us, turn and look at the crowd, the numbness of pain, the uncontrolled rolling of tears, the emotional trauma, sir you have indeed brought pain in the hearts of many whom you loved and millions that loved you.
I see your former boss H.E John Dramani Mahama here and l can feel the pain he's going through, he's mopping in pain. He said you've brought double pain on him, it was few days ago that he mourned the memory of his former boss H.E John Mills, sir your boss is visibly shattered.
Sir a lot of your friends are here as well, Samuel Ofosu-Ampofo is here and he's emotionally petrified, oh l see Asiedu Nketsiah, the Asiedu Nketsiah l know is not the Asiedu Nketsiah I see today, this is a grief-stricken General Mosquito, l can feel his pain, Joyce Bawa Mogtari is here, Kofi Adams, your party members are here to celebrate you and others, even those who opposed and vilified you are here today with sad faces crying for you. That's how good you lived sir.
Sir Your former boss H.E Jerry John Rawlings is here, the picturesque description on his face is a symbolic rendition of abject pain in man's heart. Rawlings today is visibly traumatized, crying in his heart.
I heard you didn't tell your mother too, the old lady who is in her hundreds, she is very terrified, weeping and has refused to eat, asking that you come back, she's ready to give you her life so you can live for her to take the rest.
Sir she has been crying all along, your church elders are here trying to placate her to eat and take her medications but she said no, she wants to see you, everyone around her is crying. She said Bekoe where are you, ?
We cannot answer her sir, but she wants answers, and we don't know what to tell her,because we equally don't know where you are.
Myself, I cannot control my pain, true to my name, Ivan Kyei Innocent, my innocent face is painted with grief and colors of despair as l wander around your body aimlessly , shrouded in disbelief and doubts, the obvious question lurking beneath my pain is, no formalities, the Amissah- Arthur l saw on Wednesday really gone on Friday? But the answer is no more relevant as l stand in the midst of this huge crowd to mourn your death.
Now the reality is that, you are know more, but our consolation is that even though you cannot be seen your legacy will live forever, you will forever remain in our hearts sir, l pray you find peace with your maker, so that he grants everlasting peace.
Ivan Kyei Innocent ( Nana-Kyei )
Columnist / Politician.
University Of Ghana- Legon.
@ivanKyeiinnocent-twitter