The Hypocritical Lamentations Of A "Dead Goat"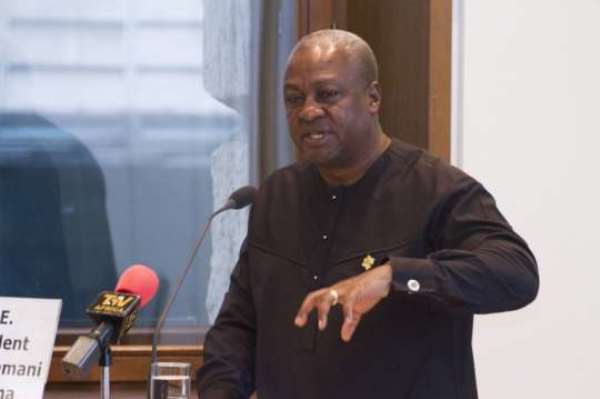 Ex-President John Dramani Mahama is reported in the news, expressing his regret at the Constitutional removal of Charlotte Osei as the Chairperson of the Electoral Commission. Mahama has no remorse and regret for the removal of Mrs. Osei's 2 deputies (Amadu Sulley and Georgina Opoku Amankwaa) because they are not NDC sympathizers.
When Ex President Mahama received a petition from Mr. Richard Nyamah and forwarded same to the then Chief Justice, Her Ladyship Georgina Wood, alleging some financial malfeasance against the then Chairperson of the Commission on Human Rights and Administrative Justice (CHRAJ), Ms. Lauretta Lamptey, he had no regrets.
The CHRAJ Chairperson's position, carries the same terms and conditions of service of a Court of Appeal Judge, just like the EC's Chairperson's position. The same procedure used to remove the CHRAJ Chairperson by John Mahama is the same procedure that has been applied in the removal of the EC Chairperson by President Nana Akufo Addo.
The only difference is that the former CHRAJ boss removed by Ex-President John Mahama misappropriated USD $5,000 a month as her rent payment for 33 months, which amounted to US$165,000, a cedi equivalent of Ghc 660,000, that is, Ghc 4 to 1 US Dollar.
Another allegation that was proved against the former CHRAJ boss, removed by John Mahama was that she paid close to US$180,000 (Ghc 720,000) from CHRAJ coffers, to renovate her official bungalow.
In the case of Charlotte Osei, 6 procurement infringements were alleged and proved against her. Some of these infringements are the engagement of [email protected] as the EC Lawyers; the award of several contracts to STL, etc., all in clear violation of the Public Procurement Act 2003 (Act 663), as amended.
It appears from the above 2 comparisons that, John Mahama, doesn't see anything wrong with violating an Act of Parliament, but clearly sees something wrong with Lauretta Lamptey, using public funds to pay for her hotel stay and the renovation of her official bungalow. This is not surprising!
There is ample evidence to suggest that, John Mahama has no respect for the laws of this country, hence, his blatant refusal to understand the reasons for Charlotte Osei's removal.
In 2013, John Mahama directed all defunct Governing Councils of public universities in Ghana to continue in office, in clear violation of the Presidential Transition Act 2012 (Act 845), as amended, and the various enabling Acts of all the public universities, such as the University of Education, Winneba Act 2004, (Act 672).
As a result of John Mahama's lack of respect for the laws of Ghana, a certain Vice-Chancellor (VC), of the University of Education, Winneba (UEW), has lost his job, together with his Finance Officer (FO), because, their authority emanated from the Governing Council that John Mahama unconstitutionally directed to continue in office.
John Mahama must note that, if he has no regard for the laws of this country, the courts have.
This is the same 'guy' who described himself as a "dead goat", and went on to bring disunity to the NDC as a result of his disastrous divide and rule tactics. It is no wonder that, John Mahama is now vainly organizing "unity walks" in an attempt to resurrect his moribund political philosophy.
It is regrettable that John Mahama is having regrets for the Constitutional removal of the EC Chairperson (Charlotte Osei), whilst he has no regrets for the Constitutional removals of Lauretta Lamptey, Amadu Sulley, and Georgina Opoku Amankwaa.
An Ex-President is supposed to be a Statesman, a unifier, and peacemaker. However, in the case of John Mahama, he remains bitter over the 'merciless beating' Nana Akufo Addo gave him at the 2016 Presidential Elections, and this has culminated in him, losing his sense of direction, as seen in his open bias in respect of the Constitutional removal of Charlotte Osei on one hand, and Lauretta Lamptey, Amadu Sulley, and Georgina Opoku Amankwaa, on the other hand.
Alhassan Salifu Bawah
(son of an upright peasant farmer)