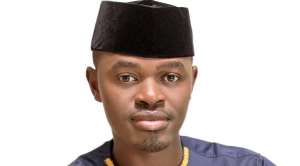 Chieff Moomen
Chieff Moomen is a very recognisable voice in Ghana. He is a poet and we all know that. I probably heard of him in 2011. And his poetry was so powerful and original that I thought I too could do poetry publicly . It revived something almost dead in me. I began to recite poems to myself again, loudly.
I had recited poems in JHS before. In those days, our English teacher led as to memorise and recite them to our colleagues. My favourite was "Nightfall in Soweto" by O.M. Msthali, the renowed South African poet. I thought myself a star performer then and got myself a nickname, Scorpion.
Then as a Literature-in-English student in Bolgatanga Secondary School between 2003 and 2006, I read many many poems from different poets. I particularly loved Theo Luzuka's the "Motoka". I remember memorising it and bothering especially non-Literature students with it. I would start: " You see that Benz sitting at the rich's end...", pointing at a fictitious Benz. The unsuspecting student would strain to see a Benz and then I would continue the recitation until they eventually realised that it was a poem.
After, SHS, I discarded it; I didn't know any poet who was reciting poems commercially, and it appeared to me that poetry was merely for academic purposes.
But when I heard Chieff Moomen's poems and the fact that he was getting the genre accepted in Ghana, I was excited so I went back to reading poems and trying my hands on writing 'real' poems, unlike the 'nursery rhymes' I had written in SHS.
Fast forward 2013, and I am in the University of Ghana. I meet poets who tell me Chieff Moomen is their inspiration and I say he is my inspiration too. Now among Chieff Moomen's students, one poet stood out -- Gombilla the Poet. He told me that he was( and he still is) a poet because of Chieff Moomen... Of course, Gombilla has become one of the best known poets in Ghana now.
I am not a known poet yet but in 2016, I took part in the Kofi Awoonor Literary Prize because Chieff Moomen. I probably would have had no poems to present. But thanks to Chieff Moomen's enabling voice, I presented poems of book length and had an honourable mention. I then went on to perform at several functions within the University.
And somehow this year, I became known as Chief Asak. And that's where I had moved from being inspired to 'plagiarising', not his work but the Chieff in his name. When people began calling me Asak( a shortened form of Asakinaba), some just nailed it by adding Chief. Obviously linking me to Chieff Moomen. And who wouldn't want to be linked to the best? So I allowed it stay. It could be credit to him that he has so inspired someone that he has adopted his "Chieff"-taincy. But on hindsight, I 'plagiarised' it. And I regret it.
But what remains is that Chieff Moomen is an inspiration and I owe my being a poet to him. I am just Asak.
Emmanuel Asakinaba ( Asak) is a writer and poet. He lives and writes in Tanzui, Bolgatanga.