Golden Exotics Supports OsuTech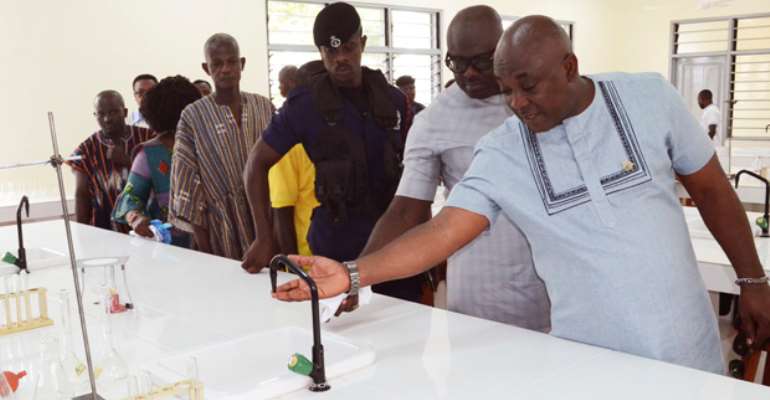 Golden Exotics Limited (GEL), a subsidiary of Campagnie Fruitiere, a leading fruit producer, has handed over keys to a fully equipped science technical laboratory to the Osudoku Senior High Technical School.
The lab, estimated at €240,800, has modern equipment that would help students to have hands-on experience.
Opening the lab, Managing Director (MD) of Golden Exotic, Oliver Chassang, noted that part of the workers' premium was used to construct the three-unit science laboratory for the Osudoku Senior High Technical School, which started in December 2017 and ended in June 2018.
He said that the facility would enable the school to apply for a pure science course to benefit the community.
Guest speaker, Carlos Kingsley Ahenkorah, Deputy Minister for Trades and Industry, commended GEL for continuously providing infrastructure in the Osudoku Traditional Area.
For instance, about €121,554 has been allocated for the construction of a crèche/nursery and kindergarten complex for staff of GEL.
Additionally, about €171,005 has been invested in the construction of Vocational Training Centre for Osuwem community.
These educational infrastructure, according to Mr Ahenkorah, would empower the human resource of the community and Ghana.
Present at the event was Nene Kwesi Animle IV, Osudoku Paramount Chief, who was full of praise for GEL for working hard to bring development to the Osudoku Traditional Area.
Assistant Headmaster of Osutech in charge of Administration, Moses Petiafo, said prior to this academic year, students did not have space to conduct experiment, examine organisms or study ecosystems.
In 2012, Golden Exotics Limited (GEL) subscribed to the Fair Trade certification, with the primary aim of enhancing the socio-economic status of its workers.
BY Vincent Kubi