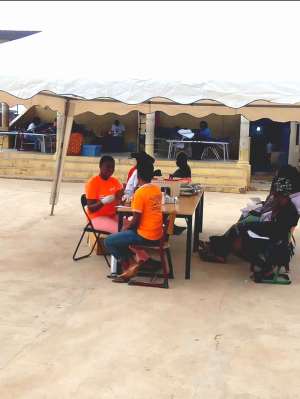 Joehill International School, one of the fastest growing basic schools located at Budumburam in Kasoa, Central region, over the weekend partnered the St. Gregory Hospital and held a successful blood donation exercise at the Budumburam Centre.
The community-based blood donation exercise, which was the first of its kind being organised in the area, drew hundreds of people from all walks of life to donate blood in order to save lives.
This health exercise was also supervised by Mr. Jonas Moli Belko, a Representative from the National Blood Bank, who was very pleased with the outcome of the exercise.

According to Abigail Assan, a Representative of Joehill International School, who also doubles as a Teacher, the basic cardinal for the blood donation is to "GIVE LIFE".
"As a school, we believe in the developmental agenda of God and the appreciation of life. We want to make life relevant for all people. We also believe that blood donation should be a lifestyle of the people," she said.
Abigail Assan revealed that the initiative was a well thought out plan from the Proprietor of Joehill International School.
She said in driving this, they want people to aspire to voluntarily and genuinely donate blood as part of efforts to save the lives of those who need it most in our hospitals.
Abigail Assan further revealed that Joehill International School is seeking to make this health project an annual event.
Against this background, she appealed to other corporate organisations to get onboard such that blood donated would benefit those in dire need of blood to survive.
"The beauty of life is not how happy you are but how happy others are because of you. Learn how to give life. We have chosen Jesus' model of giving life to people," Madam Abigail Assan reiterated.
On his part, the Representative from St. Gregory Hospital, Alfred Buabeng was amazed by the turn out of voluntary blood donors though the anticipated number of people was not met.
He was also particularly happy that no casualties whatsoever, was recorded during the exercise.
"The exercise was very successful though we couldn't meet the anticipated target. We really thank God for how things turned out"



Img-20180723-wa0012