Ghanaian Economy On Course Amid Cedi Depreciation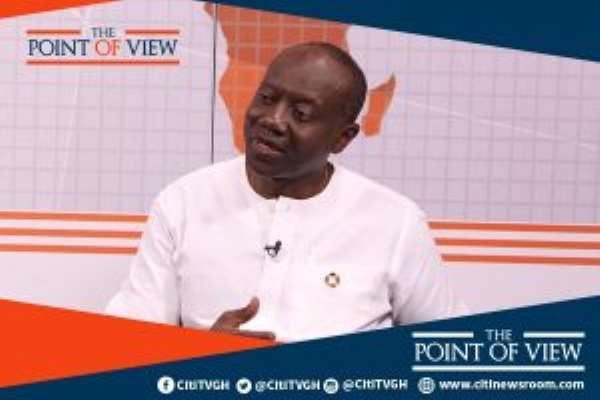 Ghana's Finance Minister, Ken Ofori-Atta, has insisted that the country's economy is "on course" despite the recent depreciation of the cedi to the dollar.
According to him, the government has put in place various measures aimed that strengthening the country's economic base and ensure economic prosperity for citizens.
Responding to concerns that the government's supposed economic development measures appear not to be felt by citizens, the minister said;
"I suspect that nobody will think that in 18 months of restructuring or starting of a business, everything will be done. The question is whether we are on course and yes, we are on course."
While admitting that the government's quest to improve the economic situation of the country will face several challenges, Ken Ofori-Atta said he was optimistic that the plans will yield positive results.
"Really, the jitters will come but my true feeling is that, that will stabilize and work out quite well," he told Point of View Host on Citi TV, Bernard Avle.
The Minister, however warned against comments about the economy which he said could lead to public anxiety and a resultant shock on the local banking sector.
Among other things, he attributed the recent poor performance of the cedi to the dollar to MTN's recent IPO which saw public reaction over a speculated repatriation of between GH¢ 800 million and GH¢1 billion.
"We really need to be careful about oratory and language which leads to speculation. Speculation can really snowball into something else….We had a queer situation of this MTN IPO in which people expected that maybe GH¢800m to a billion will be externalized and that got people sort of anxious and remember that we have brought about 2 billion in… These things happen but it doesn't mean that you throw the direction of your policy under the window," he said.
Opportunity for the private sector to thrive
According to Ken Ofori-Atta, the government has tried to create a balance between providing social support for citizens while creating a business-friendly environment to ensure the growth of the private sector .
He indicated that the growth of the private sector will ultimately lead to the improvement in the lives of Ghanaians.
"In the interim, what we have done is to intervene with some social interventions to ensure that our daily livelihoods are taken care of while at the same time strengthening the macroeconomic environment which the private sector can build upon that."