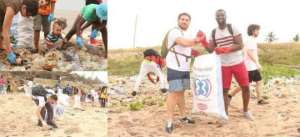 Plastic Punch, an environment and aquatic life protection advocacy organization, over the weekend, organized a clean-up exercise at the Ningo Prampram Beach to raise awareness on the dangers of mishandling plastic wastes.
Richmond Kennedy Quarcoo, Co-founder and Director of Plastic Punch, in an interview with the Ghana News Agency, said even though the exercise was not a sustainable means of dealing with the plastic waste menace, his outfit, hoped to use the clean-up exercise to sensitize the people of the community on the proper handling of plastic waste.
Mr Quarcoo said this was very critical to the survival of aquatic life and species, as the about 70 per cent of plastic waste that ends up in the ocean, threatens sea creatures like turtles, some of which can be found in the Ningo sea.
'We chose new Ningo beach because most times, government agencies and organizations visit the well-known beaches like the Labadi beach, to check the state in which they are, forgetting the new and unpopular ones like the Ningo beach.
'Then again, we chose the Ningo beach because, from our previous visit to the Ningo beach, we saw that it was home to some endangered species like the turtle and the plastic filth here at the seashore was very worrisome', he added.
Mr Quarcoo said the exercise was also a way of deterring people from creating the mess, as they would have to clean it up, if they dispose of their waste indiscriminately.
He said the plastic waste collected would be sold to recyclers, to turn it into pavement blocks for road construction, and the accrued earnings used to purchase litter bins for the community.
Mr Quarcoo said there was the urgent need for government, citizens and private waste managers to collaborate and come up with effective and sustainable waste management methods.
He appealed to government and stakeholders in the sanitation sector to support the activities of his outfit, adding that; "The clean-up at the Ningo beach was supported by donations from members of the NGO and friends".
Ms Emilou Coste, a French volunteer and a member of Plastic Punch told the GNA that people must change their attitude towards the way they disposed of their plastic waste, and practice the segregation method of waste disposal, as it was the best way to curb the plastic menace.
She said government would have to put in proper mechanisms in the collection and segregation of wastes, in order to help fight the plastic menace.
The clean-up exercise attracted some residents of Ningo, members of the Ningo Methodist Church, staff of Plastic Punch, members of the Rotary Club and some volunteers, most of whom were foreigners.