Kitchens To Be Built To Boost School Feeding Programme In Tema West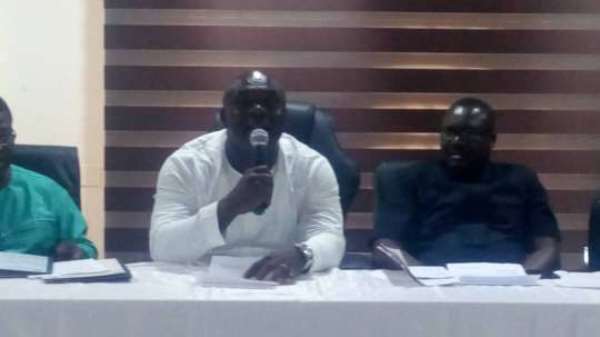 The Presiding Member (PM), Tema West Municipal Assembly (TWMA), has hinted on his resolve to equip schools in his municipality with kitchens as a way of projecting the agenda of the school feeding programme.
Mr Kwesi Poku Bosompem observes that the project, which targets 19 schools, will help monitor the cooking process and ensure that the children are fed with nutritious and hygienic food.
Speaking to the Ghana News Agency (GNA) on Monday at the TWMA, Mr Bosompem said, 'The caterers cook from their homes and bring to the children. It's not good because, we need to supervise the kind of food they give to our children and the kind of water they use to cook.'
He said, going round the schools, he realized that 19 of them did not have kitchens, 'So I will appeal to corporate bodies, individuals to come to the aid of the TWMA so we could build kitchens for the schools.'
He observed that in some of the schools, the kitchens were for the individual contractors, so when the person lost the contract, the person would take the kitchen stuffs away.
He observed that the companies that supported the Assembly's kitchen project could be given waivers, and those that wanted to brand in the form of advertisements could get that in return.
He said, the project that could cost 15,000 Ghana Cedis per kitchen, would come with hand washing basin and industrial cookers so that contractors would just fix their cylinders for the cooking, adding that, 'I am looking at a kitchen that has a pavilion where the children can sit and eat.'
He said the school feeding authorities paid the caterers and it was the duty of the assemblies to provide the necessary infrastructure for the programme to run smoothly.
He observed that for now, the Assembly's Internally Generated Fund (IGF) could not support the project that was why he was appealing for assistance.
Mr. Bosompem lamented on how assemblies spent so much money on less important things, whilst everybody complained about the bad nature of the food served to the children and how caterers poured the food in taxis when transporting them to the schools, etc., adding that, 'As citizens of TMWA, as corporate bodies, what are we doing to solve some of these problems? I think that it's time to come on board to support this.'
Mr Isaac Tetteh Nartey, a teacher of the Adjei Kojo TMA Basic School, in response to the PM's effort, observed that it was in a good direction because his school lacked a kitchen, and so the food was prepared from home with doubt about its safety.
He also indicated how that led to lateness of delivery.