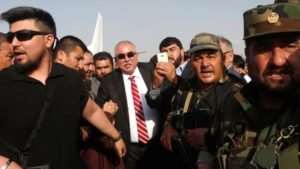 A suicide bomb blast has rocked Kabul airport shortly after Afghan Vice-President Abdul Rashid Dostum returned from self-imposed exile.
The interior ministry said 11 people were killed in a square that Gen Dostum had just passed through. He was unhurt.
The ethnic Uzbek and former warlord was cheered by supporters on arrival.
He left for Turkey more than a year ago, accused of ordering his men to kidnap and rape a political rival, accusations he denies.
Hashmat Estankzai, of Kabul police, told the BBC a suicide attacker on foot had set off his explosives outside the gate of the airport.
He said at least 14 people were also injured in the blast.
Some reports said Gen Dostum's convoy was departing as the blast was heard. He was in an armoured vehicle.
Television footage showed Gen Dostum greeting supporters at his office not long after the explosion.
Gen Dostum's reappearance was preceded by unrest in his powerbase in northern Afghanistan, as supporters demanded his return and the release of a militia leader.
Analysts believe President Ashraf Ghani sanctioned the return of Gen Dostum to try to shore up support ahead of the presidential election next year.
Gen Dostum helped the US oust the Taleban in 2001 but has been blamed for some of the worst atrocities in the country's long-running civil war.
He joined its national unity government in 2014. Source: bbc.com