Police Brutality & A Bank's Connivance?
...The Midland saga that happened before twilight in Shiashi, Accra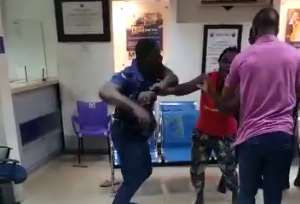 All caught on camera. All gone viral. The monstrous behaviour of a police officer that occurred in Ghana last Thursday has sparked public uproar. A breast-feeding mother is unconscionably subjected to a merciless beat up. She is seen in the video being spanked and slapped. She is dragged and shoed like a can in a road, with bruises and cuts carved on her face.
BUT don't assume she's a criminal because that's what you normally get when you rob or steal from someone in Ghana. Her attacker,,Lance Corporal Godzi Frederick Amanor has since been arrested, interdicted and readying to face the courts.
The woman, (Patience her first name) is a client of Midland Bank----a savings & loans financial institution based in the West African nation. She was trying to get bread and butter money. Herr own money saved at the bank!
For a considerable time frame it appeared staff at the bank looked on while the police officer assaulted the unarmed woman who was still clutching unto her two months, three weeks old baby. Without doubt, it's an incident that must be condemned in no uncertain terms. And I strongly hold the view that Midland Bank should offer a pro forma apology, if they haven't done that yet for their seemingly lapse in manners.
Patience, who sells candies or toffees and T-Rolls (toilet papers)for a living told the media in Ghana that she'd been going to the bank since last Friday the 13th of July to make some withdrawals. How much was the money? GHC270 (about $75 equivalent) but to no avail. Together with many clients they failed to get money from the bank, according to her.
It was the usual go-and-come-back tomorrow. But it never was. She was either told the network was down or something was wrong. Back and forth they were tossed here and there. No luck, no money. If that doesn't smack shady what else would do?
The Brutality & Arrest
On Thursday 19 July 2018, luck smiled on Patience. However, it came with pain and misery. Around half past 7am GMT she was already at the bank. Yes, she was at the bank again to see if she could be lucky this time. But for nearly 10hours, as of 4:30 pm she'd still not been taken care of.
Mr. Ralph Ofori-Adeniran former staff writer, Business& Financial Times (B&FT).summed it up appropriately on his Facebook Wall. "This is why people don't trust banks. They're only interested in taking your money... giving back is always a problem."
Four was closing in on five, while the nursing mother and her infant kept waiting.
How Midland and the Police erred.
I think the bank had all the time and power in the world at its disposal to diffuse the seemingly tension that was building up but the staff chose the wrong trajectory. Instead of de-escalating the situation they rather stoked the already charged fire. And this is where I think, the bank's staff and the now troubled-cop erred.
As fate would have it word reached Patience that her wait wouldn't be in vain. The managers were working on hers, she was told by one of the Midland's staff. Her hope had been hyped but beneath that hope was unwarranted brutality. Coincidentally, it was about the same time the bank was closing. Soon her attacker would show up and asked Patience to leave the bank's premises because they'd. closed.
Did the Bank think they could fool Patience the fifth time?
Indeed, Patience would take none of that. Why? They'd stretched her patience to its elastic limit. Therefore, she refused to leave on the grounds that she'd been given assurance that she would get her money.
"I ain't going home today until I get my money," she vowed.
Her account suggests, there was some kind of exchanges between the two (victim and attacker).From my standpoint that didn't appear to be a friendly one. Granted it was: What then might've triggered the flurry? Who said what? Was the police man trying to show of his masculinity to appease the bank? It's evident, he forgot all the professional training and skills he was given by his employers—Ghana Police Service. He threw away caution. He was thinking about 'after-a-day's -work' brown envelop. And it was obvious Patience wasn't going to back down her stance.
Following the exchanges, L cpl. Amanor went back into the bank and came right back out insisting Patience should leave, according to the victim.
That appeared to be the antecedent of the melodrama, the brutal attack and the insanity. Patience got her money but she was roughed up as though she'd robbed the seemingly cash-strapped bank. Frederick used umbrella to spank his victim, amid slaps and hefty punches.
Where was the baby at this time? Patience held unto her baby like kangaroo and her pouch. In the ensuing melee a man is seen trying to take the baby from her but she wouldn't let go, the video reveals. On the social media platforms—Facebook, Whats App, Twitter etc. many have hailed Frederick's arrest. And they couldn't also hide their outrage regarding his god-awful act.
"Now that the animal has been caged let's move on to Midland," wrote Awura Adwoa Asantewaa Kwakye.
Mr. Fiifi Amakye, founding member of GIJANA also had this to say about the troubled cop: "Officer Amanor had the opportunity to enforce the directive of the bank, without being brutal."
But do we know what the bank told him when he (Mr. Amanor) went back in?
Investigation & Prosecution
Meanwhile, the police service have launched investigation into the matter. The service which is already suffering image credibility has condemned the attack and plans to mete out punitive action against the wayward cop. Fred who's already behind bars is facing possible prosecution for his action.
In a related development, President Akufo-Addo has given the Inspector General of Police (IGP) David Asante -Apeatu his blessings: "..I want to say here police men are meant to protect citizens not to assault citizens. So the measures that the IGP is taking to sanction the erring policeman and to try and make sure that these things don't happen again they've my complete support. I support them 100 percent the measures he has taken."
Boycotts, Compensation & Trial
Does Midland Bank have the money to pay compensation (s)?
It's understood, there were panic withdrawals in the course of last week and even the one that preceded it. That presupposes, all isn't good for the financial company. I fear Midland may be hit with lawsuits in the weeks or months ahead given the manner its customers had been treated over the period leading to last Thursday's incident.
But whatever the situation might be, I think the apex bank---- Bank of Ghana (BOG) must also launch investigation into the bank's financial activities. Again, there's speculation that Midland is operating without liquidity. Is that true? We wouldn't know until such an exercise is carried out.
That said, I think the courts would determine the compensation matter. And I pray for a positive outcome. But here are a few suggestions I like to share: I will like us all to consider the following whenever there are situations like this one.
I remember, at its fluid state many were those that called for the bank's closure and boycotts. Many called for the immediate arrest of the policeman, and many more called for his interdiction. Fact is, we'd sketchy information at the time yet we didn't hesitate to pronounce crucifixion and closure. Admittedly, at the time we weren't privy to the full video of the brutality. Yet, we tried and gave verdict anyway.
Is that a good practice?
Indeed the initial video revealed the policeman used brutal force. But you'd also agree with me that it was difficult to determine or pinpoint exactly how things transpired (or to ascertain the veracity or otherwise of the matter). Remember, you cannot draw any conclusions without knowing for instance: What triggered the attack and who caused it? Was the attacker provoked how and why?
We didn't have sufficient answers at the time. And which is why I would respectfully ask all and sundry to be circumspect and tone down when matters like this erupt, because there's always two sides to a story. So, please don't attack a policeman, don't threaten or insult one. Let's show respect to the uniformed personnel. You may not know this: The police are by law permitted to use force...but they're supposed to do so only when they feel their lives are in danger.
Police behaviour in Society
"The behaviour of some police officers especially where everyone thinks there be no laws binding actions and inactions is highly reprehensible,' a commissioner at the Police Headquarters in Accra told this writer during an interview.
.No doubt about that and I think the Midland Bank case is a product of poor judgment. The cop in question could have foiled the mishap, if he applied good judgment, professionalism and skills.
According to the commissioner: "The safety of uniform personnel is key, if we really want to counted as a serious nation attractive enough to compete for foreign investment. We rate poor when the world reads these bad news about us."