The Unquenchable Burning Spear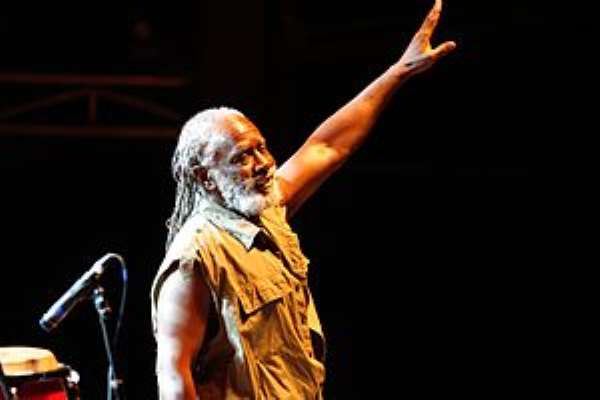 In a display of true humbleness, Burning Spear is no doubt one of the greatest reggae artists the world has ever known. Born as Winston Rodney, on March 1, 1945, in Saint Ann's Bay in Jamaica, musicians such as "The Maytals" and "Bob Marley and the Wailers" influenced him.
According to him, it was his encounter with Bob Marley, that ignited his life to fame in 1969. He has then made a couple of songs but doesn't know where to start. Then Bob told him to go to "Studio One" and he did. Today among great reggae artists, his music can be heard in every part of the world.
In the lives of individuals, many do remember the mistake one does then all the good things the person has done. But Burning Spear didn't forget the direction Bob gave him. He gave credit to Bob Marley in his song "As it is" taken from his album " Calling Rastafari."
He sings, "I start singing in the late sixties. Told about Studio One by Bob Marley." But who is actually this man called Burning Spear and why did he choose such a name unto himself?
I never had the opportunity to interview Mr. Rodney, like other great reggae stars, but just as he has been following the footsteps of the great Marcus Garvey, Malcolm X, Martin Luther King etc, believing God send them to help black people, the same way, I have been following his music for a very long time.
Like the waves retreating into the sea, I went back and compiled the names of some of his old and new songs, to find out the message of Burning Spear's music. Yes "He stands strong, The world should know, that Man in the hills, Far over, Calling Rastafari to Jah's Kingdom. His mistress music doesn't sell out and Christopher Columbus can't change his Identity and Fittest of the fittest has made him a Freeman."
Being inspired by the late Jomo Kenyatta of Kenya, Burning Spear put the title of Jomo Kenyatta (Burning Spear ) unto himself as his name. From there on, the flame of the spear is unquenchable, singing about slavery, discrimination and praising men like Marcus Garvey, Malcolm X, Kwame Nkrumah and Martin Luther King etc. His reason for cherishing these men are simple and logical because they paved the way for I and I (Africans) to be recognized.
Burning Spear showed his love for Africa from his great hit "Greetings" from the album "Far Over," after his trip to Africa. Greetings Kenya, Nigeria, Zimbabwe, Ethiopia, Addis Ababa." He said. He lamented bitterly about blacks in the United States of America who have no intention and respect for the culture.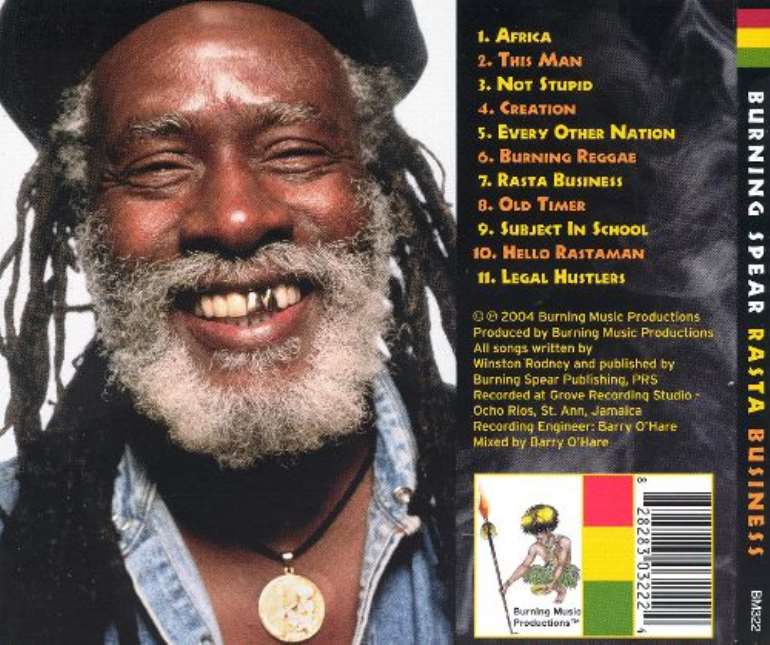 Burning Spear
As if they have forgotten their history, some even hate to be referred to as Africans. "Even though they say I'm a Yankee" Burning Spear said he still loves them because they are his brothers and sisters.
After over thirty years of his prolific music career, the tireless Burning Spear surprisingly after his 27th album special, released in 1999, Calling Rastafari, which won the Grammy Award for Best Reggae Album in 2000. In 2003, he released another album captioned "Freeman" with great numbers such as "Trust, Not Guilty, loved for who I am etc"
Despite that MTV doesn't promote reggae music, Burning Spear has excelled to be one of the world's famous musicians. His songs speak of its self. Truly, the achievements of Burning Spear, in the field of reggae, shall remain in the music history forever.