We're Sorry For Our Son's Behavior; Please Forgive Him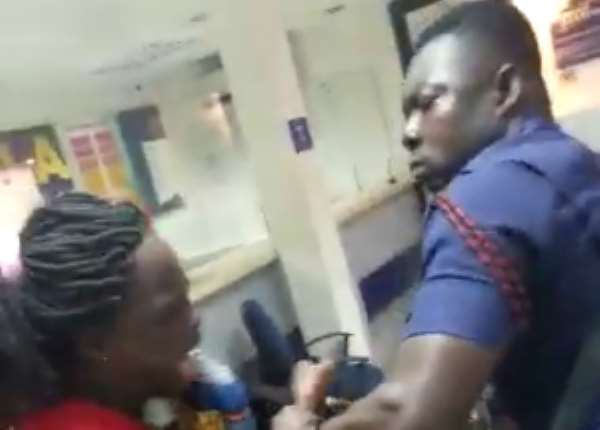 The family of embattled Lance Corporal, Frederick Amanor is pleading with Ghanaians to forgive the officer for violently beating a woman up at Midland Savings and Loans company on Thursday.
In a statement copied to citinewsroom.com the family said it had known Frederick Amanor as an amiable person, very caring and considerate," hence his behavior as captured in the viral video was unusual of him.
A horrific video that circulated on social media on Friday showed a middle-aged nursing mother being severely physically assaulted by a uniformed and armed police officer.
The officer, Frederick Amanor , hit the woman's head several times with an umbrella before landing many blows on her head and face.
He also dragged her across the floor as the woman tried to resist and fight back.
Reports say the incident occurred when the woman insisted on receiving her GH¢270, saved with the financial institution on Thursday.
An official of the company is said to have told the woman said they could not give her the money because their system was down but the woman, who had reportedly been chasing her cash since Monday refused to leave.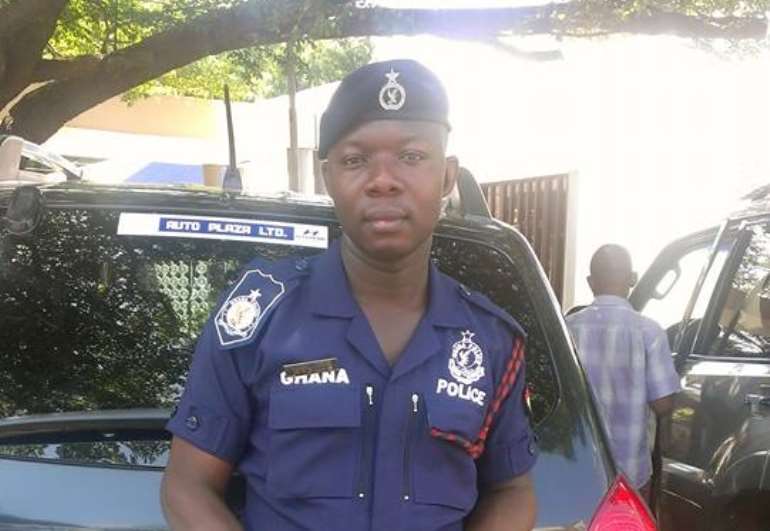 Frederick Amanor
According to her, the staff of the company ordered the police officer to throw her out when she refused to leave.
Many Ghanaians took to social media to express outrage over the matter, demanding justice for the woman and the arrest of the officer.
The Police in a statement said it had begun investigations into the matter and will ensure justice for the victim and the perpetrator sanctioned.
The management of Midland Savings and Loans has since condemned the assault.
But the family of the beleaguered Police has also issued a statement appealing to the Inspector General of the Police, and the victim, Patience Osafo to forgive the officer for the dastardly act.
While admitting that L/Cpl Frederick Amanor's act was "barbaric" and "inhumane," the family said, "human as we are, offending one another is inevitable."
It, however, urged Ghanaians to pray for the officer to "remember our son in their prayers for the good Lord to reform his twisted mind and steer him on a decent and humane path."

Read the statement below:

The family of L/Cpl Frederick Amanor wishes to render an unqualified apology to the President, the IGP, Ms Patience Osafo, the victim and the good people of Ghana for the untold embarrassment our son has brought unto us and the nation.

The conduct of our son was barbaric, inhumane and antithesis to the professional training in the police.

We have known Skalla as an amiable person, very caring and considerate and his conduct as captured on the tape is very unusual of him.

That notwithstanding, we are pleading with the good people of Ghana to find that forgiving heart deep down within to forgive our son.

No amount of money, words or expressions can restore the violations Ms Osafo Patience suffered. However, human as we are, offending one another is inevitable.

We are therefore pleading with Ghanaians to join us to apologize to Ms Osafo Patience for the savage beatings she suffered at the hands of our son.

We are deeply sorry and pray that the Good Lord heals n consoles her. We are passionately pleading with Ghanaians to remember our son in their prayers for the good Lord to reform his twisted mind and steer him on a decent n humane path.

We are grateful that notwithstanding the sad images this video lives in your memory, you will not dwell on the negative but help us to pray to reform such characters in the service

Thank you