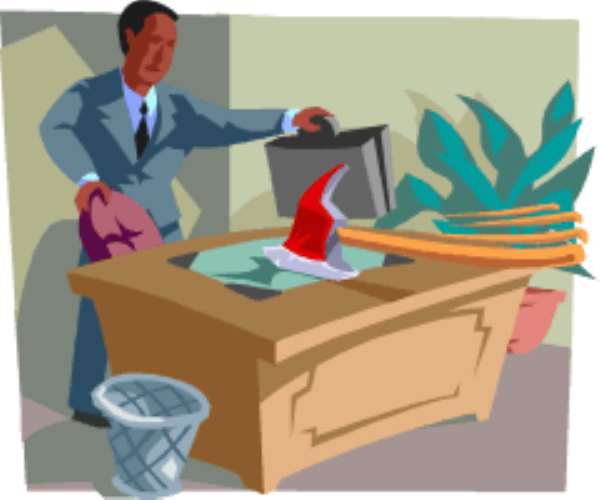 STILL NURSING hopes of continuing in office well into the next cycle, Mr. Fredrick Fraduah Antoh, New Patriotic Party (NPP) Regional Chairman for Ashanti, was swept away in a frenzied revolutionary fervour.
As many as fifty five members of the Regional Executive Council decided to cut short his flight, and with the force of hurricane Katrina, thirty nine more constituency chairmen in the Ashanti region voted him out on saturday evening by passing a 'vote of no confidence' in him, well ahead of elections in October this year.
Included on Antoh's charge sheet were the cardinal offences of gross indiscipline and wanton disrespect for the Regional and National Executive Councils.
The Chairman is said to have defied all admonitions and warnings against unilaterally going ahead to recognize and swear in Odeneho Kwaku Appiah as chairman of the Afigya-Sekyere West constituency despite contentious issues that were still lingering unresolved after eyebrows had been raised over his election.
Nana Adu Asabre, the NPP chairman for the Asante-Akim North constituency, confirmed the story in a telephone interview with The Chronicle in Kumasi yesterday.
According to him, the decision to unseat chairman Antoh was and still is in the supreme interest of the party, judging from the internal wrangles, which had of late rocked the NPP in its Ashanti stronghold.
He continued that it was wrong on the part of the regional chairman to 'rubbish' an attempt by the regional and national executive councils to resolve the dispute which broke out in the Afigya-Sekyere West constituency.
The election of Odeneho Kwaku Appiah has been declared null and void, following assertions that he was not a registered voter at the area and therefore not qualified to stand and be voted for as chairman in the constituency.
This sparked off controversy. The matter was, as expected, passed on to the regional executive to deliberate on and resolve amicably.
However, it was gathered that F. F. Antoh played the King Solomon, solely decreed that Appiah was in the clear and proceeded to have him sworn into office as the newly-elected chairman for the next two years.
Mr. Assibey, First Regional Vice Chairman, when reached on phone, confirmed the episode, but told the paper that he was out of town when it happened and promised to get back to The Chronicle after up-dating himself.
Antoh, in the eye of the hurricane, had switched off his cell phone. His personal Areeba was not taking any calls.