Prevailing Statistics Favours Osei-Ameyaw For NPP Asuogyaman Candidature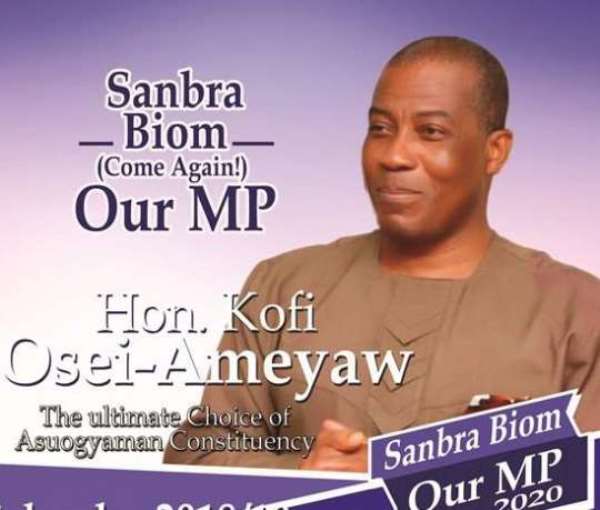 Mr Ben Taylor, a researcher and member of Frontiers Ghana, has called on the New Patriotic Party (NPP) to feature Mr Kofi Osei-Ameyaw, as a candidate for the Asuogyaman Constituency in the election 2020
He said Mr Osei-Ameyaw was more exposed to the constituents and can easily snatch the seat from the National Democratic Congress (NDC) if he is presented as the party's candidate in the 2020 Parliamentary Election.
Mr Taylor said this when he granted an interview to the Ghana News Agency in Accra on Thursday.
He said per the research conducted by his outfit in the constituency, Mr Osei-Ameyaw, who is currently the Director General of the National Lottery Authority, is the favourite candidate of the people, who are ready to accept him as their ultimate Parliamentary leader.
Mr Talor said the Asuogyaman Development Foundation in collaboration with Asuogyaman Devoted Ladies tested the popularity of Mr Osei-Ameyaw on the grounds with about 40,000 posters and calendars bearing his picture and he was overwhelmingly endorsed.
'Statistically, the Asuogyaman Constituency is the traditional stronghold of the NDC. The NPP has never won a Presidential Election in the Constituency since 1992, but has won the Parliamentary seat for five times since 1992 whereas the NPP has won the seat only two times (2004 and 2012) with Mr Osei-Ameyaw as the candidate.
'He has contested the Asuogyaman seat on three occasions, won twice and lost once in 2008'.
The researcher said a careful look at the quantum of votes Mr Osei-Ameyaw had has always been more than the Presidential Candidate of NPP in the constituency.
'The highest votes obtained by a Parliamentary Candidate in the Asuogyaman Constituency is 20,750 in 2012 followed by 20,493 in 2016'.
'Mr Osei-Ameyaw had 20, 750 votes in the 2012 Parliamentary Election on the ticket of NPP, while, Mr Thomas Ampem Nyarko obtained 20,493 votes in the 2016 Parliamentary Election on the ticket of NDC. Based on the statistics, even though Osei-Ameyaw did not contest the 2016 Parliamentary Election, the NDC Parliamentary Candidate failed to surpass the electoral performance of Kofi Osei-Ameyaw'.
Mr Tailor said the constituents of Asuogyaman have proven to have some love for Mr Osei-Ameyaw and were prepared to vote overwhelmingly for him if he decides to contest the again in the 2020 general election.
GNA
By Amadu Kamil Sanah, GNA