The Police Vs The Killing Of Seven (7) Asawase Zango Youth; A Wakeup Call To All Zango Youth & Zango Leaders In Ghana!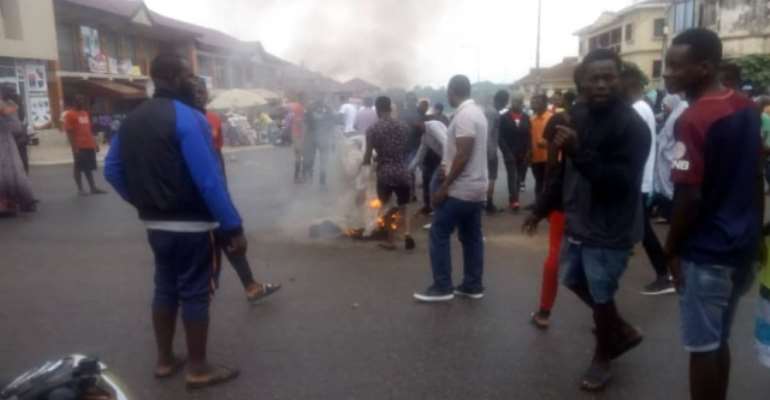 How would you feel to wake up to the news that , your Brother/Son/in-law/Husband /Counsin/Nephew/Niece went out and was shot dead by the police because he/she is suspected to be an armed robber ? How would you feel , when the police attacks you or your brother just because you are from ZANGO? How about the erroneous impression that , if you want violence or recalcitrant youth and you surpass the ZANGO community , you ain't gonna find one ? Such is the sad story of the ZANGO people/community in Ghana .
I was shocked and devasted on hearing the news that , seven (7) ENERGETIC, PRODUCTIVE &INDUSTRIOUS ZANGO Youth some of whom are family heads have been shot and killed by the Police just because they suspect them to be armed robbers. In my mind , this callous form of policing should never be entertained in a democratic dispensation.
The begging questions therefore are that :
1. What informed the Police that , these innocent ZANGO youth were armed robbers?
2. What did the police do within their reach to act professionally?
3. Which of them started to fire ; the police or the alleged armed robbers?
4. If they were alleged armed robbers as the police wants us to believe, do they deserve to be killed ?
We all want the police to protect our lives and properties. We all do not want bad guys amongst us . In addition, we all want to at a matter of professionalism, see our police act within the conduct and ethics of the Ghana Police Service. But, at this time , I am afraid to say that , The Police did a lot of shoddy work at shooting to kill these innocent ZANGO youth who have been alleged to be armed robbers.
For so long , ZANGO has always been seen to be the hub of bad boys . It has always been seen to be an avenue for indiscipline and a whole lot. But, people forget the fact that , ZANGO certainly has values that supercedes the negative thinking of people.
This in my view, should be a wake up call to the youth and leaders of ZANGO across the country . It is about time we tell our good story to the world . It is about time we make the world know and understand rightly so that , we are people bonded by good behaviour. We must let the whole world know that , ZANGO is not a breeding place for indiscipline and criminals.
The leadership of ZANGO (Chiefs,Imaams, MPs, MMDCEs, Assembly men etc ) must wake up and fight for the common good of the ZANGO community. They should invest massively Education, Health, Trade, and many other things that transforms the lives of the ZANGO people. For it is of no surprise that , we currently have the current veep in our country who happens to be a ZANGO boy , the Minority Chief Whip in Parliament and several other dignitaries who are from ZANGO and are serving this country deligently .
As a ZANGO boy from EJURA/SEKYEDUMASE, I am by this article calling on the leadership of ZANGO in Ghana to wake up and tell the whole world that , enough is enough. ZANGO is not a breeding place for criminals and all that . It is about time we are accorded the necessary attention and not been used by politicians and other self centered people.
I am also by this article, calling on the Veep, Dr . Mahamudu Bawumia, who is the Head of the Ghana Police , The IGP, Inspector Bediatu, The Ashanti Regional Minister, Simon Osei Mensah to as a matter of urgency, form an independent body to investigate the incidence that lead to the killing of these seven (7) people by the Ghana Police in order appease the ZANGO people.
I am also by this article, calling on the ZANGO youth in Kumasi to stay calm and wait to see what leadership has to do to bring justice and appease the families of the deceased.
For I believe, if these are done in a swift manner , there is going to be peace between the people of ZANGO and the Ghana Police .
God bless ZANGO !
God bless Our homeland and make her great and strong .
Writer : Abubakar Saddique Ahmed