GIABA Urges Religious Leaders to Fight Money Laundering and Terrorism Financing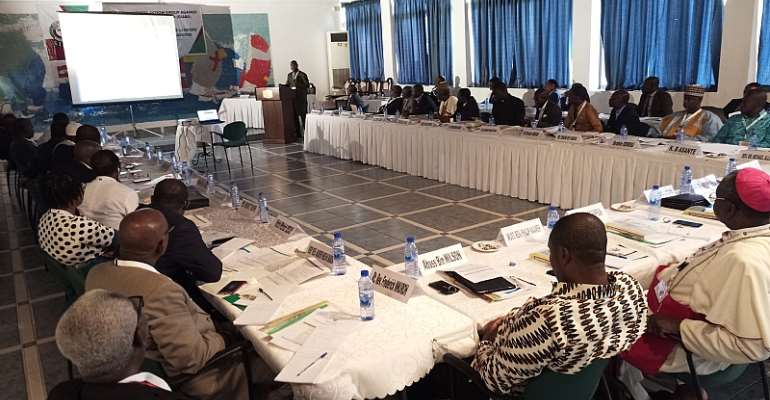 An Inter-Governmental Action Group against Money Laundering in West Africa (GIABA) has called on religious leaders and institutions to sensitize their followers towards the fight against money laundering and terrorism financing in the sub-region.
Speaking at the opening ceremony of the two day seminar for high-level religious leaders and institutions on Anti-money laundering and counter-financing of terrorism in Accra, the Minister for the Interior, Ambrose Dery said whilst state institutions do it part to curb this canker, it behooves on eminent and noble personalities in society to come on board and play their part in this fight.
He noted that crimes have assumed transnational dimensions and have become a global phenomenon, thus resulting in sophisticated transnational organised crime syndicates perpetuating crimes such as drug trafficking, human trafficking, terrorism, money laundering and the likes.
The sector minister indicated that the surge in acts of terrorism and other organized crime within the sub-region can be attributed to the availability of funds to these unscrupulous people, which is mostly laundered money.
According to him, with resources about 10 times the national budgets of some African countries it is always difficult for a country to single-handedly fight these syndicates and eliminate or reduce the grave effects of their actions on countries' economies and in sometimes leading to the loss of lives.
Hon. Ambrose Dery opined that building of synergies as well as strengthening of capacities in this regard is important and integral in the fight.
Dr. Prince Boamah Abrah, who read the speech on behalf of the Minister for Gender, Children and Social Protection said religious and faith based organizations should use their various platforms to preach on the social implications of corruptions and other economic and financial crimes.
"People must begin to question the source of wealth of individuals who are not engage in any meaningful employment and yet spend lavishly. Such suspects should report to our security agencies when we sense any foul deals," he emphasized.
Dr. Prince Abrah noted that there are many instances, where the supposedly wealthy people are given the front roles in our religious gathering. "We even encourage them to spend their ill-gotten wealth on various religious activities."
According to him, the anticipated social cost, risks and implications associated with combating these criminal activities usually put intense pressure on government's expenditure for security, law enforcement activities, and health care among others.
"In most cases, our children, youth, and women suffer the greater consequences," intimating that, "this seminar is timely because the issues raise may not only create the awareness but rather suggest pragmatic steps and possible solutions."
Dr. Prince Abrah said there must be the need for an effective synergy among us. Implementation of drastic measures to tighten up security within and across our boarders should be of great concern to us.
He added that governments need to ensure collaborations among the security and law enforcement agencies. Such collaboration would promote the exchange of useful intelligence and information sharing to strengthen our campaign towards Anti-Money Laundering and Counter Terrorism campaign.
Dr. Prince Abrah urged stakeholders ensure that Laws and Regulations on anti-money laundering and counter terrorism are translated into simple terms, making it easier for people to read and understand.
According to him, low levels of awareness will worsen the situation and therefore requires sensitization and public education.
He posited that enactment of Anti-Money Laundering Laws are not enough in our fight against this menace, the law enforcement community must keep pace with the ever changing dynamics of money Launderers who constantly introduce innovative methods to stay beyond the reach of law.
The Director General of GIABA in West Africa, Justice Kimelabalou Aba said these two devils are so powerful and translate into such insidious offences that only a strong regional and international alliance between the public and private sector and the faith-based organisations can defeat them.
He indicated that since the early 90s, authorities of the Economic Community of West African States (ECOWAS) as well as its citizens have been drawing attention on the fact that money laundering and terrorist financing and predicate offences had been following a steep rise.
"Therefore, it is important to stress the vulnerability of religious organizations and their members, many may be dissuaded into negative activities that promotes or engage in ML/TF or direct terrorist activities," he emphasized.
Justice Aba intimated that religion is a platform for moral moulding and rebirth, and many of our citizens in the region are followers of one religion or the order, therefore it is important to sensitize and build the capacity of the leaders to know and drive the persuasive message that will enlighten our members on the ills of ML/TF.
He said many have used negative teaching to drive violent extremism, therefore it is expected that this engagement will bring to light the role of religious leaders and institutions in promotion of peaceful coexistence amongst the society.
Justice Kimelabalou Aba posited that the workshop provides an excellent opportunity to raise the awareness level of religious leaders on their role in AML/CFT and regional initiatives especially the mandate of GIABA and to agree on actionable points to promote co-existence in particular and in general AML/CFT efforts.
Justice Aba noted that the 2-day seminar is in line with the recommendation of the Council of Ministers and in its continuous efforts to ensure member states implement effective AML/CFT framework towards protecting the national economies from the proceeds of crime.
He added that the seminar is also in line with the member states' commitment to fully apply acceptable international standards and practices to their payment systems, including the FATF recommendations.
According to him, it is also a response to the call made by ECOWAS member states whereby they wanted the private sector to be more involved in prosecuting the war against money laundering and terrorist financing.
Emmanuel Ajarfor Abugri
Editor