Dr Thomas Mensah Meets Her Excellency Samata Gifty Bukari Consul General Of Dubai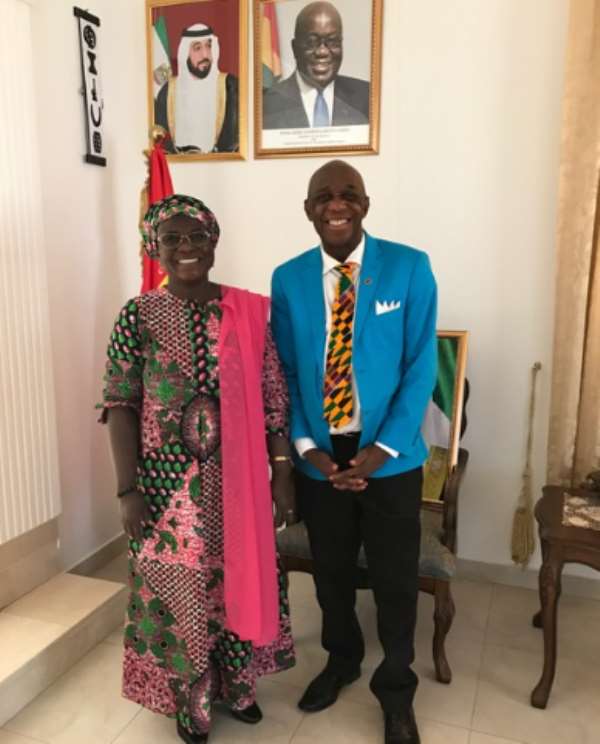 The Famous Fiber Optic Inventor Dr. Thomas Mensah was welcomed to Dubai by Her Excellency Samata Gifty Bukari Consul General of Dubai. They discussed industrialization of Ghana and how to improve Technology Development in Ghana. Dr. Mensah also met with Business Leaders in Dubai who have transformed Dubai from a Desert to a Major Tourist Destination and Technology Leader.
Dubai and UAE are involving its students from High Schools to University in Rocket Science and Space as was shown by a CNN Documentary shown around the world recently. They are training their future leaders who are today's students to be part of and serious contributors to the Science an innovation of Tomorrow. Sustainable Development Goals are also thought including Solar and Renewable Energy.
Dubai boasts of the tallest Skyscraper in the world, taller than the Sears Building in Chicago and the Empire State Building in New York.
Technology permeates the entire modern City of Dubai. In fact UAE has embarked upon a project to turn Desert into Rich Farmland to produce 60% more food than it does currently. Agreements have been signed with Chinese Companies to produce Vegetables, Rice, and other crops as well as grow trees in the Desert. The world and especially Africa can learn a lot from how UAE has used Technology and Innovation to transform Dubai and other cities to places of wonder and envy compared to many cities around the Globe.
Dr. Thomas Mensah also discussed the Silicon Valley of Ghana which he has successfully launched at the Kofi Annan Center in Accra. This Technology Platform www.Siliconvalleygh.com has attracted International Attention especially when Google announced that it is locating its Google Artificial Research Lab, in Ghana. Four Countries were in the Competition, Ivory Coast, Ghana, Kenya, and South Africa. Ghana has won this Prize. Other Cities who have such research centers include Paris, Zurich, Silicon Valley USA, Tel Aviv. This is the first of its kind in Africa. Google is also helping in IT Infrastructure with its Google Fiber in Major Cities with faster Broadband and Internet Access. Dr. Thomas Mensah is also working with the Railway Ministry to install Fiber Optics Cable along the Railway lines for Signaling, Rail Safety and Internet Connectivity especially in Rural Areas. These efforts and others like the High Speed Rail network led by the Ministry of Rail and the MRO, Aircraft Maintenance Facility led by the Ministry of Aviation will make Ghana the leader in Africa in terms of Technological Innovation.