Avoiding 'Korlebuclosis' --The Korle Bu Disease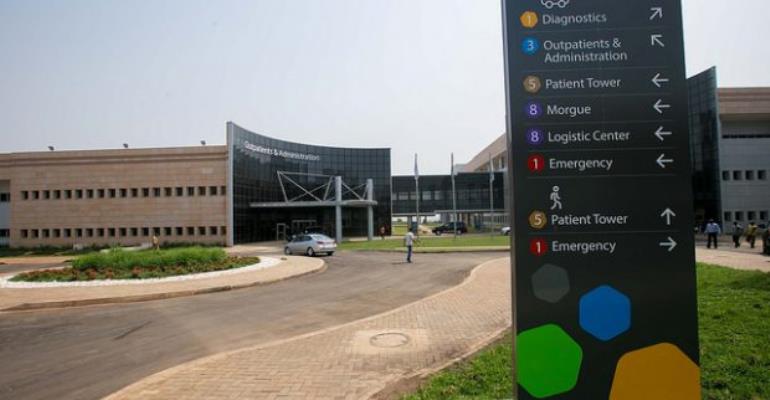 Gordon Offin-Amaniampong writes
Everybody likes her brand new moccasin shoes or boots. And everybody likes his brand new cars or new homes until they become old... Until they're worn-out we treat them like rose flowers so tenderly. Some even have a fetish for showcasing them at big gatherings.
The stubborn fact is, the beauty of these items will not last forever. Surely, their glory will fade. But with good maintenance culture and right attitude they could defy time and bad conditions. Indeed that idea seems to be a far cry in our part of the world.
Does that remind you of the way we treat our hospitals in Africa?
Yes, in Africa, irrespective of your geographical location: Be it Ghana, Sierra Leone, Nigeria or Zimbabwe our leaders will fly abroad for health treatment because they don't have faith in the hospitals they themselves built. It doesn't matter how good or how bad they may look. Whether the hospitals have the best health facilities, the best medical practitioners or the best equipment: Be rest assured, they will fly abroad to seek health care services.
They will fly to Ross Hall hospital in Glasgow, or Fernbrae Hospital in Dundee, or fly to Johannesburg, South Africa because the facilities there are top-tier. They'll fly there like a camel on heat ----chasing its partner at the Kalahari Desert. Former President John Mills (may his gentle soul rest in peace) flew there for medical care. President Buhari of Nigeria went to the UK for similar reason, so did Robert Mugabe of Zimbabwe. And they're still flying! there
On Wednesday July 18 2018, the University of Ghana Medical Centre (UGMC) commenced operations at its 650-bed facility built at a cost of $217 million, amid a clarion call by its interim management committee to ensure that "a different culture is established."
The -state-of -the-art centre had been sleeping for more than 18 months after the first phase of the project was inaugurated by former President John Dramani Mahama on January 4, 2017. Meanwhile the Ministry of Health has approved a staff strength of about 30, which will only take referral Out Patient Department (OPD) cases in the short term. It's understood that specialist services in three departments – Dermatology, Ophthalmology and Ear, Nose and Throat (ENT) will come on stream by the end of the year.
But can UGMC avoid the Korle Bu Disease?
Unless it walks a fine or thin line it would catch the dreadful disease. I call it 'Korlebuclosis' the Korle Bu Teaching Hospital disease. It's layered. The Hospital's chief executive officer Dr. Felix Kwaku Anyah said this about Korle Bu: "People can have all the equipment they need, but if the people don't have the right attitudes the right belief systems, the right thinking it will be useless."
He said you can't change Korle Bu radically." I couldn't agree with him more on that. The reason, the problem there is in layers as I earlier pointed out. They include financial, administrative, obsolete machines etc.
In 2014, James Clifford Oblitey secretary of the Korle Bu Teaching Hospital Senior Staff Association (KOSSA) in 2014 in a statement blamed then former Board chairman Eddie Annan and the immediate past acting CEO Rev Albert Okpoti Botchway saying: they "kept making contrary and false claims' whenever the issues were raised."
By the way, is Dr. Felix Kwaku Anyah at post? Problem is at Korle Bu the CEO's and the Board Chairs don't last long. They're either viewed as traitors or nonconformist. Either way, if you don't become a poodle or puppet you'll become a rogue. And I prefer the latter. I think one must crack the whip to save the life of the Old Lady rather than be a stooge and see Korle Bu fall on her knees. Politics is another challenge Korle Bu faces. It doesn't have the mandate or independence to take decisions. Thus it depends on parliament. Yes the politics in Parliament doesn't help the trail blazer.
"To imagine that someone can sit in Korle Bu and solve the problems in Korle Bu in isolation I think it's laughable. Until; they sit and reflect on the root problem of the crises and realise that it's a system's problem.. we will continue day in day out to have this experience,"said Mahama Ayariga, MP for Bawku Central.
The hospital had been treating patients on the floor and in chairs at the emergency department due to lack of beds and other serious problems.
So for UGMC to avoid the Korle Bu disease, I think the managers must stay out of politics and do things right. Our leaders must place the people of Ghana first in any grand scheme of things and not governments.
It's said the Korle Bu Teaching Hospital continues to blaze the trail when it comes to the introduction of specialize services. The hospital which was established in 1923 under the Governorship of Sir Gordon Guggisberg carried out its first ever kidney transplant in Ghana in 2008. Korle Bu is one of the few hospitals in Africa where sophisticated laboratory investigations are done including other specialized services like brachytherapy intervention for the treatment of prostate cancer and keyhole surgeries.
And look at the Korle Bu Teaching Hospital now. Look at the state of Korle Bu which is the third largest hospital in Africa. Songstress Ebony said it best: "Maame Hwe."
The renowned teaching hospital started initially with a 200 to 2,000 capacity-bed today But the conditions at Korle Bu teaching hospital today leaves much to be desired. Today, our public office holders both past and president talk about Korle Bu like a prophet gone astray.
Minister for Information, Mustapha Abdul-Hamid has said government was putting in place measures to ensure that the referral facility becomes a 'top-notch' research centre, "so that at the end of the day we don't turn the UGMC into another Korle Bu."
"But in order to make sure this does not become like Korle-Bu, it doesn't just depend on health workers, it is important that we have the right people at the top, the right management. The health sector is not just money it is also with management and leadership so we want to establish that here," he underscored.
As time goes on, the UGMC is expected to receive patients not only nation-wide but also from the sub-region and beyond. The facility has about eight huge blocks, which house an emergency centre, an outpatient and administration block, women and children's centre, a medical training and simulation centre, among others.
Meanwhile, Parliament has approved two agreements the fund the second phase of the Centre to enable it run fully and also meet international standards.