UGMC We'll Not Be Run Like Korle-Bu – Interim Mgmt. Chair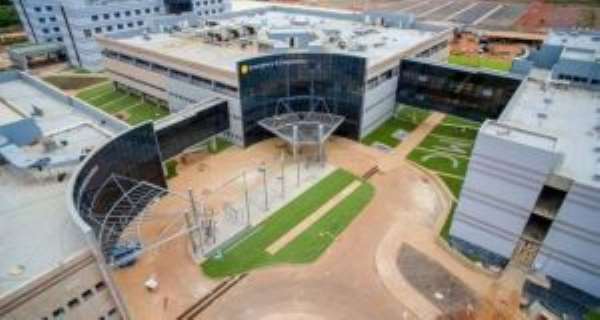 The Chairperson of the Interim Management Committee of the University of Ghana Medical Center (UGMC), Dr. Asamoah Baah, has promised that the new facility will not be managed like the Korle-Bu Teaching Hospital.
According to him, the UGMC will adopt a better work culture to ensure patient satisfaction at the facility.
Speaking at a press conference to officially open the center on Wednesday, Dr. Anarfi Asamoa-Baah, Chairman of the Hospital's Interim Management Committee, said they will ensure that "a different culture" is established at the center.
He said the new health facility will strive to ensure that health workers have the right attitude and are adequately motivated to deliver better services to patients.
"Consistently, we've been advised by different people that 'don't make this like Korle-Bu, so we are very keen that we establish a different culture. A culture that makes this place patient-friendly, that the patient comes first, a culture that is patient-centered where health workers have the right attitude and the right motivation to provide the highest level of services," he said.
While calling for public support for the hospital, Dr. Baah said there was the need for the right management, staff and health personnel to ensure that patients are satisfied with the care they receive.
"But in order to make sure this does not become like Korle-Bu, it doesn't just depend on health workers, it is important that we have the right people at the top, the right management. The health sector is not just money; it is also with management and leadership so we want to establish that here."
The Minister for Information, Mustapha Abdul-Hamid in an interview said that the government was putting in place measures to ensure that the referral facility becomes a top-notch research center, "so that at the end of the day we don't turn the UGMC into another Korle Bu."
The UMGC has begun with the operationalization of phase one , with about 30 medical staff.
This will allow the facility to receive referral patients at the Out Patient Department OPD from other satellite health facilities.
The facility was scheduled to open in November 2017 but was kept locked to the public due to a tussle between the Minister of Health and the University of Ghana over who manages the $217 million facility.
The current structure will see it being managed by the Interim Committee of ten members which includes management of the University of Ghana and some officials of the Ministry of Health.