Let's Tell Ourselves The Truth: Why I Totally Disagree With Prof. Peter Quartey, Head Of Economics Department, Legon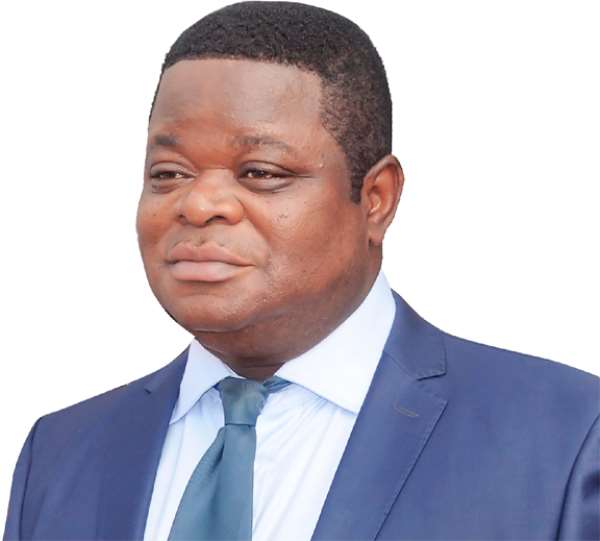 Prof. Peter Quartey
Sometimes one gets so discouraged in happenings in Ghana and one only resolves to create a 'small peaceful world', live and die out of this world, but one have, over the years observed that the wrong decisions made by leadership comes to negatively affect that 'small peaceful world'. And as our Akan proverb asserts 's3 woankasa woti hoa, y3yiwo ayi b)ne' meaning when you do not direct your barber at the salon, you'll be given a terribly bad haircut. Just yesterday, 16th July, 2018, President Donald Trump was in Helsinki to dine with the president of the longtime adversary of the US and everyone including his own Republican Party members and State Security Heads in that country has unreservedly and severely condemned their own president. All Americans understand that the state's interest and security must not be endangered by any individual who wants to organize a press soiree to debunk the notion that their enemy (Russia) did hack into their election machinery.
That same evening I heard Professor Peter Quartey, Head of Economics Department at the University of Ghana, where I happened to be an alumnus, granting an interview on the intended VAT rate rise by government from 17.5% to 21.5% in its' mid-year budget review. In summary, all Professor Peter Quartey said was, it was prudent for government to increase the VAT rate and that if Ghanaians need improvement in the infrastructure and the provision of amenities, then we should permit or accept the increases. He, however, cautioned government at the tail end of the interview to put to good use the monies to be realized from the increases. And as I went online, researching to put this piece together, I saw the story reported on peacefmonline.com captioned 'Mid-year Budget Review: Marginal tax increase is no big deal - Prof. Quartey'. Apparently, the story was sourced from myjoyonline.com in an earlier with Joy News' Anchor, Emefa Apawu.
In academia, we are encouraged to peer-review colleagues' works and propose a friendlier or better still, a more refined solution to the betterment of our societies. And it is in this vain that I write this article. Let me start my argument by referring to the renowned, good old American Psychologist Noam Chomsky, this man has over the years recommended or otherwise chastised the various past and the current American presidents on many of their policies, irrespective of their political party. My senior lecturer, Professor Ransford Edward Gyampoh of Political Science Department also at the University of Ghana has on several occasions praised or condemned both the NDC and NPP governments. I can continue with to mention some other renowned persons in academia who have justified themselves in this regard.
One main philosophy I have held, all my life is, we persons in academia or the education fraternity are the shapers of society and in everything we do or say, must be to the benefit of the general or public good and not to the benefit of the few privileged in society. When we get the opportunity to express our well-researched and learned views on topics of national concern, we should talk for the voiceless in society. In any case, the politicians, themselves prey on the helplessness, aspirations and hopes of the voiceless citizens in our society on their way into political power. I do not intend to allow this article tow the usual path of NDC/NPP debate that has never yielded any single solution for this dear nation of ours but to make neutral and non-partisan contributions for Ghanaians, especially, those of us in academia.
Number one, I am throwing a direct challenge to persons in academia to conduct research into sensitive issues that border on national development; we have the tools to undertake and conduct unbiased researches on the economy and other areas of our society. We have to repackage ourselves into a respectable position as key stakeholders in our collective efforts of nation building. We should take our fates into our own hands, publish our researches, organize civil societies, and galvanize the efforts of the ordinary Ghanaian, direct and influence policies in the country. When we able to persevere in this direction we will assume our property positions as the authorities in our areas of study. I believe we will be listened to by the political class, when we make our unbiased, well-researched and educated contributions on national issues in the near future. This, I again believe, in the long run, will eliminate the unrewarding supervisory roles that the so-called partner countries and their proxy-international organisations play over our economy. The fact is our governments have over the years signed deals, treaties, agreements, contracts, grants, loans with these countries and these international organisations but we are still in this quagmire.
The politician will always come to us to raise money through taxation or any other means possible. However, my second recommendation is that persons in academia, civil society orgaisations and the general public should call for accountability before any demand from the politician is met. For instance, as it stands now, the government wants to raise more money to effectively run the NHIS meanwhile we are not privy to the basis on which this demand is being made. All of us, together, must request from government very detailed evaluation, accountability, research or forensic audit of the NHIS so far. And if government is unable to provide this, the academia should be able to provide a well-researched alternative. As at 2015, the NHIS has a total of 11.3 million active members across the country, representing 42% of Ghana's population then. Ghanaians must demand that government provides very genuine figures on the budget allocations and expenditures on the NHIS to guide current deliberations and future decisions.
Hypothetically, if GH¢ 1million were budgeted for 2017 NHIS, but by the end of December 2017 financial year, Table 1 depicts the income and expenditure trends of the scheme.
TABLE 1.
| | | | |
| --- | --- | --- | --- |
| INDEX | DESCRIPTION OF ITEM | INCOME | EXPENDITURE |
| | Budget for 2017 | 1, 000, 000.00 | |
| | Salaries and Emolument | | 200,000.00 |
| | I.T. Infrastructure Expansion and Management | | 100,000.00 |
| | Claims from Service Providers | | 200,000.00 |
| | Drugs and Medicines | | 400,000.00 |
| | Total Expenditure | | 900,000.00 |
| | Balance (Surplus) | 100,000.00 | |
Then from this hypothetical table, we can observe a surplus balance of Gh¢100,000.00, however, if government anticipates an increase in the subscriber base, say by 3%, then we can determine that 3% of the amounts spend on both drugs and services and add to the subsequent budget allocation, thus Gh¢6,000.00 + Gh¢12,000.00 = Gh¢18,000.00. The budget for the subsequent year can then be determined after taking care of the surplus balance of the previous year. From this hypothetical stand point, all of us must interrogate and demand from government, how did the Sylvester Mensah led administration managed the resources at NHIS? What were the pitfalls? What prudent corrective and preventive measures needed to be taken? Then we can determine how much of our scarce resources be invested in there. This can be replicated in the various areas of our national investments.
My third point veers into the area of restructuring and balancing the national expenditure as against the accrued revenue. How much of our national resources go into taking care of the Article 71 office holders and the CEOs of state owned enterprises; from their salaries, allowances, fuelling, per diems, accommodations, vehicles, ex-gratia packages? What happens in other jurisdictions? I appeal to authorities in academia to help us answers questions, using Germany or UK as a case, what is their total population? What are their real GDP figures? What proportion or percent of their GDP is spent on those categories, in our case article 71 office holders? Juxtapose those figures with what pertains in Ghana, do real academic analysis and help transform the fundamentals of our economy. Let us conduct detailed analysis of the cost benefit analysis and interrogate most of the policies and programmes our governments implement. Personally, I have never been in agreement with the free SHS policy. The burden and demerits of that policy far outweigh the benefits. Our resources as a nation are scarce and these resources have several alternative uses and we must allocate them prudently.
In conclusion, I strongly believe Ghana has the human resources, the natural resources and everything it takes to become the United States, the UK, the China, the Singapore or recently, the Rwanda of our time. What we sincerely, lack is the courage the strong will to tell ourselves the truth. From my perspective, the purpose of government is to play the Robin Hood role; where the state machinery run by governments has the fundamental responsibility to pull together resources to provide for and protect the citizenry, the vulnerable and the poor in its jurisdiction. But what I have observed in Ghana since our return to the fourth republican constitution in 1992 is, the poor Ghanaian is left poorer after each election whilst the political classes smile home with all the goodies they could stockpile for themselves. And I want to implore on my respected authorities in academia to help shape our Ghanaian statehood by stating the truth as they are, when we get the opportunity to contribute our learned and unbiased opinions on national issues. This government rode on the back of lower taxes, less loans, protecting the public purse, accused others for incompetent governance capabilities, mismanagement and corruption only to come to power to appoint 110 ministers and continued with the same old trend of governance style in Ghana. As Albert Einstein said, 'If you want different results, you have to try different approaches in doing things'.
Thank you.
Mutala Mohammed
[email protected]
The writer is a passionate-tax-paying Ghanaian, from Worawora in the Volta Region.