'Criticize Justice For All With Facts'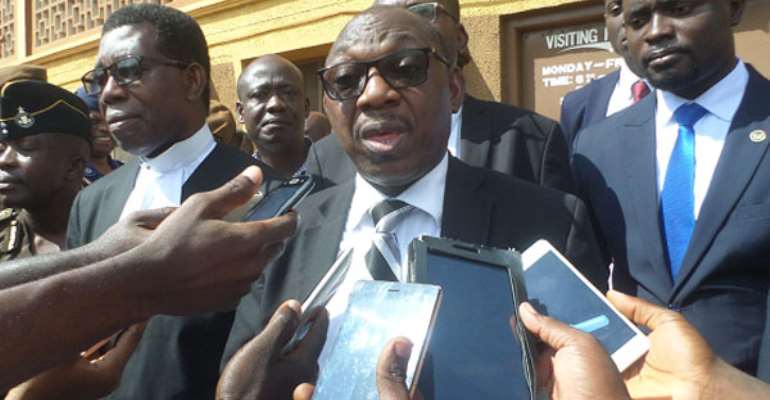 The chairman of Ghana Remand Review Taskforce, the body tasked to implement the Justice for All Programme (JFAP), Justice Clement Honyenuga, has challenged those who criticize the programme to base their criticisms on facts and figures.
According to him, their baseless and unconstructive criticisms are demoralizing those who are implementing the programme, which is geared towards decongesting the country's prisons.
He threw the challenge to critics of the programme at the Sunyani Central Prison after three courts had acquitted and discharged 14 remand prisoners, convicted some and given bail to others.
He stated: "Before anybody criticizes the programme, the person must be very sure of his or her facts. The JFAP deals with only remand prisoners and not convicts. Beneficiaries of the programme are not the same as those who benefit from Amnesty International. It is demoralizing to hear that beneficiaries of the programme go back to commit similar offences or even worse . . ."
As part of the programme, three in-prison courts sat at the Sunyani Medium Prison last Friday and dealt with 76 cases. They were chaired by Justice John Bosco Neberese, for court 1; Clement Honyenuga, for court 2; and Justice Patrick Bayea, for court 3.
At the end of the sitting, 14 remand prisoners were acquitted and discharged; one convicted and fined; three convicted and imprisoned; 30 granted bail; 21 bail applications refused; four referred to psychiatry enquiry; whilst some absented themselves.
Speaking to the press after proceedings, Justice Honyenuga thanked all collaborators who helped to make the programme a success. They included police investigators, prosecutors, the Ghana Prisons Service, POS Foundation and most especially members of the Ghana BAR Association in the Brong Ahafo Region.
The Sunyani Prison, originally meant to hold 450 inmates at authorized capacity, now has 915 inmates making it overcrowded. The JFAP initiated by POS Foundation, a Non-Governmental Organization on Human Rights, is to ensure speedy trial of all remand prisoners whose cases have not been heard. Since its inception, the programme has helped release more prisoners who otherwise might have been languishing in jail though no prima facie case had been established against them.
The Sunyani Central Prison Commander, Deputy Director of Prison, Robin Asamoah Fenning, commended members of the JFAP, saying the programme had helped decongest about one third per cent of remand inmates at the Sunyani Central Prison. He appealed to philanthropists to come to the aid of the prison with poly tanks to help them store water during the dry season.
The longest remand prisoner, 56-year-old Kwesi Kuma, who spent seven years in prison without trial on a murder charge, was so grateful to the organizers.
[email protected]
FROM Daniel Y Dayee, Sunyani