Demo Against Newmont Suspended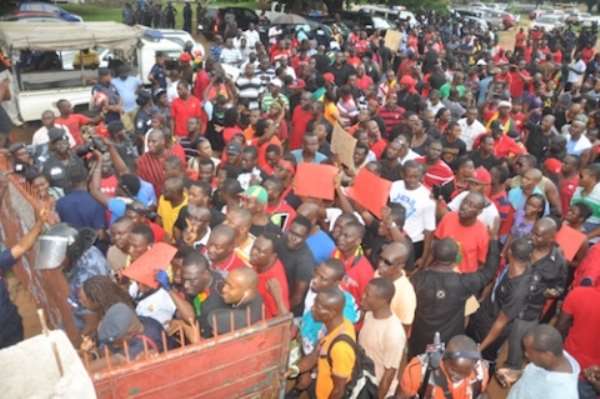 File Photo
The planned demonstration against Newmont Ghana Limited, scheduled to take place at Akyem Kotoku in the Birem North District of the Eastern Region, has been suspended to allow for further mediation.
According to the landlords protesting acts of alleged shortchanging and deception, the demonstration has been suspended for two weeks pending mediation between the two parties for possible resolution.
"We have met with Newmont's leadership over the issue and have agreed to hold on with the demonstration for two weeks as we negotiate further for possible amicable solution to the problem," Mr. Ntiamoah Denkyira, Spokesperson for the Landlords, has disclosed.
Land owners at Akyem Kotoku in the Birem North District had planned a massive demonstration for Monday, July 17 against Newmont Ghana Ltd for alleged shortchanging and failed promises.
According to Mr. Ntiamoah Denkyira, Newmont Ghana has shortchanged them by paying only one year's compensation for plots of land and crops destroyed to make way for their mining activities.
"They have paid us only one year's compensation for a project that is going to last fifteen (15) years so we are not going to sit down for them to take us for granted. They have to pay us the remaining 14 years or they would have no peace to operate," Mr. Denkyira warned in an interview
Compensation package for the land owners, mostly farmers, for an acre of land, was six hundred Ghana Cedis (GHC600.00) an equivalent of about one hundred and thirty United States Dollars (USD130.00).
The compensation package for each acre of cocoa was seven thousand and two hundred Ghana Cedis (GHC7,200.00) or about one thousand and five hundred United States Dollars USD1500.00; an acre of citrus is four thousand and two hundred Ghana Cedis (GHC4,200.00) or about nine hundred United States Dollars (USD900.00) and same for an acre of palm trees.
The landlords claim the amount was to cover a year's compensation for the destruction of the crops for a project that would last 15 years and land and crops that have become irrecoverable for life due to the massive destruction to the land for mining.
The residents also claim Newmont failed to employ the youth of the area as part of its promises and commitment to the community.
They have warned that, if the mediation fails to yield expected results after two weeks, they will hit the streets to express their anger at Newmont, in addition to other actions.
Newmont Ghana Ltd has been under fire at its operational area in Akyem for alleged exploitation and failed promises.