Schools In Anyaa Sowuotum Constituency Receive Support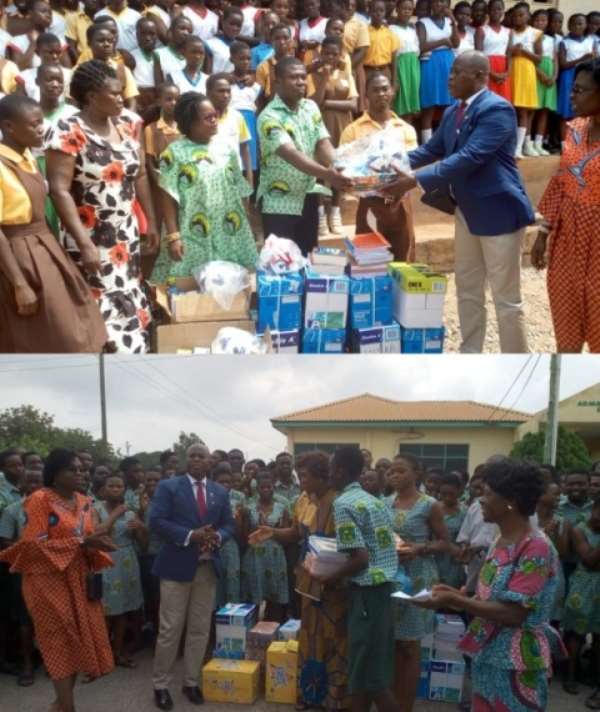 The Ministry of Foreign Affairs and Regional Integration has donated various items to the Odorgonno Senior High School and Anyaa M/A One and Two Basic Schools, all in the Anyaa Sowuotum Constituency in Accra.
The donation, dubbed 'Come Back to School Campaign' is the flagship of the Ministry to encourage children to go back to school as well as sustain them while in School.
Alhaji Mohammad Habibu Tijani, a Deputy Foreign Minister, presented the items which included quantity of textbooks, boxes of stationery, exercise books and sets of football, to the Heads of the schools on behalf of the Minister, Sherry Ayorkor Botchwaey, who is also the Member of Parliament for the area.
He said the Come Back to School Campaign is an initiative of the Ministry to support government's effort to encourage children of school going age to remain in school.
He said while the children are in school there is the need to support them by helping them with teaching and learning materials.
Alhaji Tijani said the donations, which would cut across the entire country, was their Corporate Social Responsibility to support government's Free education Policy.
He said other Ministries, Departments and Agencies are also equipping schools with the necessary tools to make the school environment conducive for both teachers and school children.
He said government is doing its best to improve the conditions of service for teachers and urged the children to study high to achieve their aim.
Ms Jessica Kumah, the School's Girls Prefect at Anyaa M/A One and Two Basic School, thanked the Ministry for the gesture and promised that they would put the items to good use.
Mrs Juliana Opokua Dapaah, Headteacher for Anyaa M/A One Basic School, also thanked the Ministry for the items which she was very timely.
She said the school lack basic infrastructure such as a library, computer library and textbooks and expressed her gratitude for the timely intervention by the Foreign Ministry.
Mrs Valencia Quame, Headmistress of Odorgonno Senior High School, thanked the Ministry for the care and the act of benevolence towards the school and pledged to put the items to good use.
The Deputy Minister was accompanied by Amma Adomaa Twum-Amoah, Ambassador to Ethiopia and some staff from the Ministry.
In another development, Mr Charles Owiredu, a Deputy Minister for Foreign Affairs and Regional Integration, also made similar donations to Abeka Motorway One and Two Basic Schools and St. Justin Cluster of Schools, all in Accra.