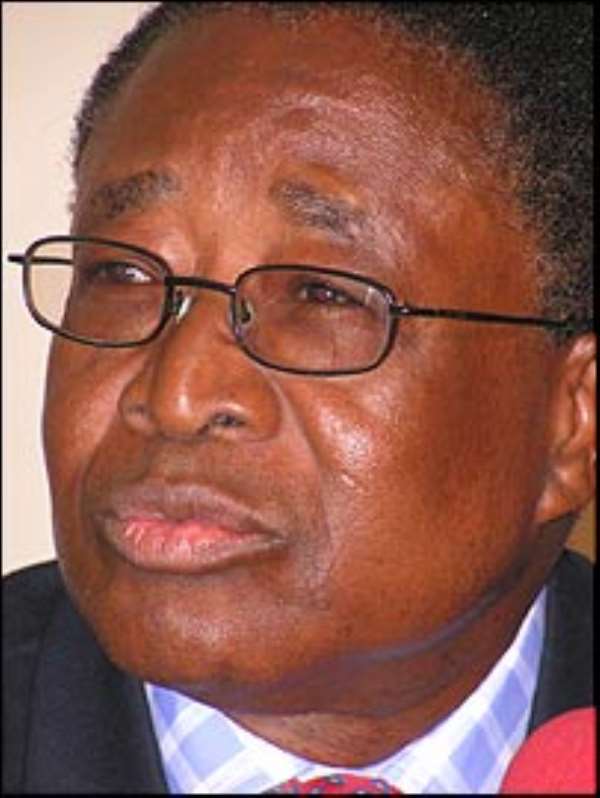 "In the works of Lucretius, we find two reasons why we shouldn't worry about death. If you have had a successful life, Lucretius tells us, there's no reason to mind its end. And, if you haven't had a good time, "Why do you seek to add more years, which would also pass but ill?" - Alain de Botton
It was about 5:30pm Tuesday September 13, 2005 in my apartment here in the United States when a friend of mine called from London and told me that the former Minster of Youth and Sports, Hon. Edward Osei-Kwaku was reported dead on a Ghanaian radio station in London after he was knocked down by a "hit and run driver" in Kumasi. I stayed on the phone speechless for over a minute as I found it very difficult to believe because I had spoken with him not long before. The next morning, I received e-mails and several calls from friends across the world that indeed the former Minster of Youth and Sports has passed away. It was really a sad day for me, and said to myself, the nation has lost one of its few selfless and fearless politicians! Death is indeed neutral and inevitable. Epicurus once said "It is possible to provide security against other ills, but as far as death is concerned, we men live in a city without walls."
My first major encounter with Hon. Osei-Kwaku was in 1997 when as a first year student of the Kwame Nkrumah University of Science and Technology (KNUST); I went to the Teachers Hall in Kumasi together with my bosom friend, Drissa Ouattara to participate in the launch of the 1996 Amnesty International Annual Report. Hon. Osei-Kwaku was the guest speaker with Bishop Akwesi Sarpong, the catholic bishop of Kumasi as chairman. In his speech, the silver-tongued lawyer and politician vehemently condemned the PNDC regime for its atrocious human rights record. After the function, my friend Drissa and I approached him and asked him about what he thought of the late Mr. Obeng Manu's (a human rights activist and lawyer) disparaging remarks about the then Mr. J.A. Kufuor and the New Patriotic Party (NPP). The then learned Member of Parliament for Asokwa West described Mr. Obeng Manu's unguided utterances as an abomination.
Although I had several other encounters with Mr. Osei-Kwaku, it was during my days in student politics at KNUST that I really became very close to him. His generous financial assistance contributed greatly to the successful formation of Tertiary Education Students Confederacy of NPP (TESCON). I remember very well when I first approached him for assistance to enable TESCON undertake one of its main objectives – NPP outreach political campaigns – Hon. Osei-Kwaku not only gave TESCON money, but also helped us to open a bank account to enable us effectively raise more funds for our programs. He will always tell me before the 2000 elections: Kabila (as he affectionately used to call me) let's work hard because the wind of change is blowing. Mr. Osei-Kwaku was a regular guest of "Always Around" - a current affairs and discussion forum as the Unity Hall of KNUST, taking students through the parliamentary work and sharing with students his views on major national issues. His great passion for the Danquah-Busia tradition and the eloquence with which he delivered his speeches and shared his views at KNUST provided great inspiration to those of us who were involved in student politics. He will always advise students to participate in the development of their communities as development, he will argue, is a shared responsibility.
A graduate of the University of Ghana and the Ghana Law School, Mr. Osei-Kwaku was the managing director of the now defunct Ashanti Regional Development Corporation in the 1980s during which the organization undertook several projects in the Ashanti Region. He was an ardent sports enthusiast and served the Asante Kotoko Football Club for several years in various capacities during which the Club chalked many successes and became the most successful football club in Africa. He was a board secretary for Kotoko for several years and until his retirement was a director of the Club.
Hon. Osei-Kwaku served his community very well with distinction. As one of the finest lawyers ever, in the Kumasi Metropolis, he contested in the District Assembly elections in 1994 and became an Assembly Member in the Kumasi Metropolitan Assembly. His period as an Assemblyman saw remarkable improvements in communal activities and development projects in his area even though he received a lot of resistance from the then chief executive, Nana Akwasi Agyeman. In 1996, he contested for the Asokwa West Constituency seat and won massively on the ticket of NPP. Hon. Osei-Kwaku was an articulate minority spokesperson on Environment, Science and Technology.
In the 2000 election, he retained his seat in Parliament and was appointed by President J.A. Kufuor as Deputy Minister for Presidential Affairs, an assignment he executed to the admiration of the President. In November 2001 during President Kufuor first major reshuffle, he was made the substantive Minster of Youth and Sports. His tenure as Ghana's Youth and Sports Minister was quite remarkable. He believed that for Ghana to fine a good place in the sporting map, sports infrastructure was essential, and laid out a plan not only to renovate the county's dilapidated sporting infrastructure, but also build new ones. He initiated Ghana's bid to host the CAN 2008 even though his detractors thought he would fail. Mr. Osei-Kwaku always argued that the hosting of the Cup of Nations in 2008 would help the country improve its sporting infrastructure, and today we are all witnesses to the massive injection of capital into the renovation of our two main stadiums in Accra and Kumasi and the construction of two new ones in Tamale and Sekondi-Takoradi. Mr. Osei-Kwaku was the planner and architect of the new Sports Development Bill which seeks to reverse Ghana's dwindling image in sports and football in particular. In fact, he laid a solid foundation for sports development in the country, and the Ministry's recent statement on his death attest to this fact.
Before President Kufuor's second major reshuffle, many political pundits had called for the removal some "non-performing" ministers, and Mr. Osei-Kwaku, I believe was used as a scapegoat. Today, I still think his removal from office is/was unfortunate, to say the least. The Youth and Sports Ministry is a very controversial set up which needed the strong personality in Mr. Osei-Kwaku to provide the leadership that had eluded it for a long time. Mr. Osei-Kwaku had a sterling reputation as a catalyst for reform and he always brought this to bear in all his endeavors – as a private legal practitioner, Assemblyman, Member of Parliament, Minister of State, a father and husband; and a staunch Anglican. He was a proud advocate of free market economy and the rule of law - the two economic and political principles which are the cornerstone of the Danquah-Busia tradition.
The late Mr. Osei-Kwaku was a gentleman and humble, but firm, vocal and courageous individual who made his voice heard at every stage of his career. His humility was recently demonstrated when he accepted to chair the Ashanti Regional Branch of the Local Organizing Committee for the CAN 2008, having initiated the bid for the country to host the tournament, formed and inaugurated National Organizing Committee as the Minister of Youth and Sports. Ghanaians will remember him for genuinely advocating for either a top-notch expatriate coach, which could be too expensive for Ghana or a local coach for the Black Stars. He was a man of great personal characteristics and undoubted integrity.
Until his untimely death, Mr. Osei-Kwaku had set up his own private business as an industrialist, and death which Julius Caesar said "is a necessary end, will come and it will come" has caught up with him.
May his soul rest in perfect peace
Francis Asenso-Boakye New Jersey, U.S.A