Sanitation Ministry Introduces Data Collection App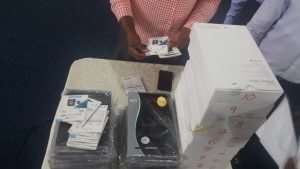 The Ministry of Sanitation and Water Resources has launched an app that will enable the Ministry to collect real-time data on sanitation-related issues in the capital.
This is part of the Greater Accra Metropolitan Assembly (GAMA) project aimed at enhancing efforts towards improving their data collection.
Some 110 tablets were given to 10 MMDCE's in the capital with the app installed on them to be used by field officers in their day to day operations.
The GAMA Project Coordinator, George Asiedu speaking to Citi News on the sidelines of the launch of the app, indicated that the app gives the Ministry the opportunity to efficiently analyse data collected.
"We have translated the manual way of collecting data sanitation data into a digitised way and that is what this 'ESICAPP' application is about. This time the environmental health instead of going from house to house doing the inspection and writing them, they would rather it on the electronic application and the data will be transferred to a central unit."
"This application has an inbuilt analytical system which will be able to analyse the data depending on the use. We want to be able to tell our own story that much as the government is putting in a lot of resources with regards to our improvement in sanitation so this is basically what we are doing," he said.
The Sector Minister Kofi Adda, in his keynote address, called on the beneficiary MMDAs to ensure that the tablets they have been given are used adequately to enhance their work.
The application, ESICAPP is a data collection tool developed on Open Data Kit (ODK) Suite by a local IT firm, Big Brain Ltd.