Where Are The Ebola Attackers On ModernGhana News Site?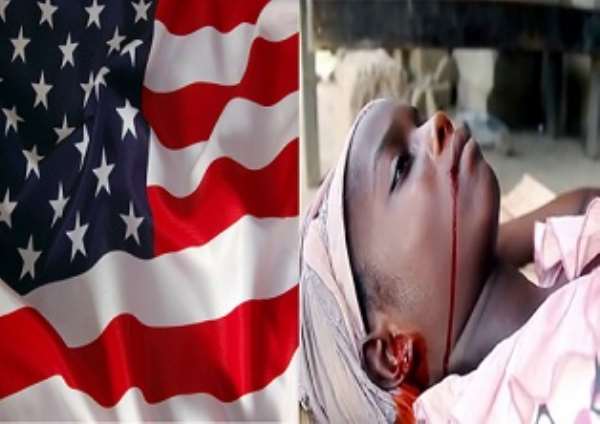 A victim of Ebola and the American flag because the US government is responsible
On May 26, 2018, I published an article on ModernGhana news captioned "A Warning To The US Government: Stop Testing Ebola Biological Weapon In Congo." Since we live in a world an African journalist, writer or author, faces underestimation, disrespect, and discrimination, I was attacked by some readers who want to convince the world that I am a bad or a false writer.
One of the comments came from a reader who gave his name as Ivan, without writing his full name. (ModernGhana article reference: https://bit.ly/2ujWWEK.
According to Ivan "This writer must be on drugs to dream up this nonsense. Seems to want to portray that the entire world is against Africa. Clean up the government graft, payoffs, kickbacks and theft and maybe people would want to visit the continent."
Another writer calling himself Boris said "I see the author currently lives in Belgium. There are certainly ways for him to organize a vacation on the Congo river." Readers interested in the article can read further from the provided reference.
I have written many medical articles not because I went to a medical school but I became interested in writing such articles after visiting scientist Johan Van Dongen in Holland and Dr. Wolff Geisler in Cologne, Germany. The documents they gave me pertaining to medical crimes, including the deliberate spread of diseases in Africa, such as Ebola are shocking.
"Whatever happens to me benefits me in a special way." The outrageous comments and insults from those readers provoked scientist Johan Van Dongen to join the ModernGhana news to start posting his articles. As I narrate this story, since from the time scientist Johan Van Dongen start posting his articles, all those that previously attacked me are nowhere to be found.
They attacked me because they want to create the impression that an African writer has no brain, therefore, he is writing nonsense. My question is where are they now? Because scientist Johan Van Dongen is waiting for their attack as well. "Smartness is a form of stupidity," he says. Because he is a white scientist and those that attacked me know the articles are accurate, there is no challenge from any opposition readers.
Now the foundation of Aids and Ebola medical crimes and the deliberate spread of diseases in Africa has gained momentum and new strength, as Dr. Wolff Geisler also joins ModergGhana news to share his articles on the same subject, the deliberate spread of Aids and Ebola in Africa. His books "Aids, Origin, Spread And Healing," doesn't mention Aids and Ebola alone as man-made diseases but also Burkitt's lymphoma, Kaposi's sarcoma, Mycotoxins and Cytomegalovirus.
Africans should never allow such comments from those attacking African writers on ModernGhana news site or any social media to change their mind. If they think Europeans or Americans love Africa, I have some questions for them.
Why is Africa the only continent among the other continents that have suffered most?
Why has no other continent experienced slavery, colonization brutalities, Apartheid, and medical crimes but only Africa?
Why has Aids dealt a heavy blow on Africans and African-Americans at the same time?
There are no people in their right mind that will claim they love Africa and treat them in such a manner. If Europe and America embassies give African visas doesn't mean that they love you. Visas are not given free of charge. Sometimes they will deny you the visa and take your money as well because your money helps them. This is what Africans need to understand.