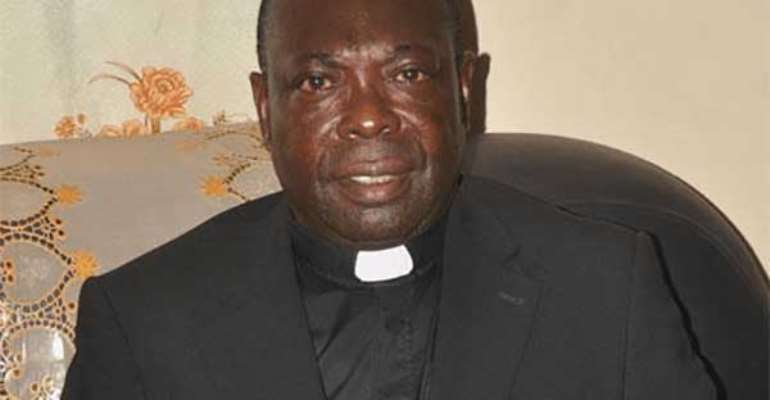 The Chairman of the Christian Council Of Ghana, (CCG) Rt. Rev Seth Senyo Agidi said it all about a major challenge gripping the Ghanaian society in recent times as all manner of self-styled pastors exploit the vulnerable in an assortment of ways.
In a society choking with the sheer number of crooks whose source of wealth is never questioned by the so-called men of God, it is disturbing that such ill-gotten affluence is sometimes showered on such founders of churches in return for doubtful blessings.
They dine with the wealthy and popular and see nothing wrong in their ways even as the downtrodden suffer by the roadside and wonder where the next meal is going to come from.
They claim to have friends among the fraternity of angels and even coining names for these spiritual creatures to create a certain degree of awesomeness about themselves among their congregation.
Very soon, some of them shoot up on the ladder of the affluent in society and instructively they do not see anything wrong with flaunting these riches in front of the poor from whom they continue to drain more money.
As the true Man Of God, and not the charlatans on the roadside and in their expensive structures, the Rt. Rev Agidi charged his colleagues to talk about the challenges of the world and how these can be addressed using the word of God. Unfortunately, most of the sermons are prosperity-based and interestingly super-powers which belong only to God.
That these charlatans claim to have the power to destroy Lucifer and foresee the future is worrying because it is about them playing the Omnipotent and Omniscient.
A few months ago, a new trend visited the country. People claiming to be men of God were running over each other with claims of knowing when others were going to die and announcing same in the media for attention. It is as if God the Almighty has ceded some of his awesome powers to such persons, and for what reason, only they can tell.
It might be difficult or even unfeasible to regulate the activities of these churches but not doing so could see a replication of the American story when a so-called Man of God caused a mass suicide of his followers through an unusual brainwashing. While we might consider that possibility too distant to even contemplate it would nonetheless be worthwhile just considering precautionary measures with the CCG leading the charge of identifying the 'crooks in cassock' and weeding same off.
The Rwandan situation comes to mind readily. Paul Kagame has taken a drastic action of clearing some seemingly bad churches of that country's space.
Bona fide Men Of God have an important role to play in our corrupt society where fake cassock-wearing men are unable to point out to perpetrators of crime their bad ways because doing so would deny them their stipends. It is unfortunate though that the bad churches have mushroomed so fast that they are almost becoming the façade of the church – a situation which must be reversed.