Ghana To Get A Consulate In Curacao Island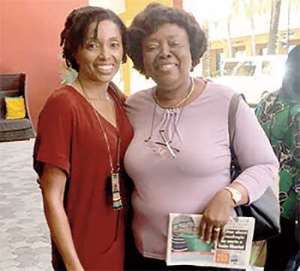 Ghana's Ambassador to The Netherlands, Sophia Horner Sam, is reportedly exploring the possibility of opening an Honorary Consulate of Ghana on the Island of Curacao.
She is also taking steps to establish trade links with Curacao and bring the people of Curacao and Ghana together to rediscover themselves through cultural exchanges and tourism.
A statement issued to DAILY GUIDE indicated that the envoy visited the semi-autonomous country from 9th to 18th June, 2018, where she met Ghanaians living in that nation and some potential candidates for the post of Honorary Consul.
During the visit, the statement said, Ambassador Horner Sam paid courtesy calls on Lucile George-Wout and Eugene Rhuggenaath, Governor and Prime Minister of Curacao respectively.
She also met Curacao Ministers of Economic Development, Education, Science, Culture and Sports, Dr. Steven Martina and William Millerson; Chairman of the Parliament of Curacao, Hugo Clarinda; Director of Curacao Chamber of Commerce, John Jacobs.
"For a people that have their roots in Africa and for that matter Ghana, Ambassador Horner Sam's decision to establish bilateral relations between the peoples of Curacao and Ghana is very much welcomed by all the officials of Curacao," the statement pointed out.
"There are very positive signs that this initiative by H.E. Horner Sam is definitively going to bear fruits, as some of the officials have expressed the desire to meet their opposite numbers in Ghana. Others have expressed the desire, following Ambassador Horner Sam's invitation for them to participate in Ghana's annual diaspora home-coming and other cultural events organized in Ghana under the auspices of the Ministry of Tourism."