Five Persons In Trouble For Stealing And Abetment Of Stealing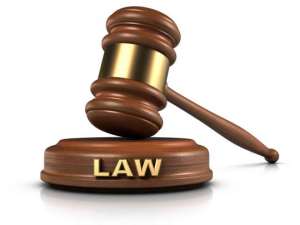 The Winneba Magistrate Court has bounded three juveniles to be of good behavior for six months for unlawful entering and conspiracy to commit crime to wit stealing.
Emanuel Ansah aged 14, a Junior High Student, Musah Karamaku aged 14 class four pupil and Ayisahatu Mukahey 12, also a class three pupil both juvenile offenders who attends Effutu Municipal Assembly school in Winneba pleaded guilty to the charges.
Love Ansah and one Emmanuel Annoble parents of one of juvenile offenders Ansah were also charged with abetment of crime and stealing and they also pleaded guilty and the court convicted them to a fine of 120.00 each or in default serve two months imprisonment each.
Ayisahatu was fined 500.00 Ghana Cedis in addition, for master minding the theft.
The Prosecution led by Police Sergeant Mrs. Bernice Wie told the court presided over by Mr. Isaac Oheneba-Kufour that the complainant in the case is Ms Lydia Tey, Proprietress of Bright Child Academy in Winneba.
The prosecution said on 4th March, 2018 at about 1900 hours the complainant detected theft of a number of reading and exercise books, packets of checks and other teaching and learning materials stocked in the school's office.
The complainant upon her personal inquiries suspected one Alberta Ansah aged 11 also a juvenile and a class three pupil of her school and a sister of Emmanuel Ansah, the prosecution said.
The complainant reported the matter to the police the following day and led them to the school where Alberta Ansah was arrested where she assisted the police to apprehend Emmanuel Ansah who mentioned Musah and Ayisahatu as his accomplices.
According to prosecution in their cautioned statements they admitted having committed.
She said offenders led the police to their respective homes where some of the stolen materials were retrieved.
The prosecution police Sgt. Wie said when the police arrived at the house of Ansah they met the parents Love Ansah and Emmanuel Annoble where both parents deny having knowledge of such materials being kept in their house.
Sgt. Wie said but when a search was conducted they found quantity of books hidden under their bed so they were arrested and brought to the police stations together with the exhibits.