Bank Of Ghana Should Adopt Interest Rate Cap Policy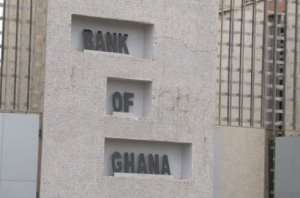 Policy think-tank, Centre for Economic and Business Research (CEBRE), is urging the Bank of Ghana (BoG) to prevail on commercial banks to reduce lending rates.
The think tank believes interest rate cap will consequently bring down the cost of borrowing and encourage businesses to expand.
Executive Director, Gordon Newlove Asamoah, said cap the lending rates will reduce non-performing loans at commercial banks.
The central bank has the function to, among other things, regulate and supervise the banking industry.
They set the official policy rate which is used to manage lending rate, inflation and the country's exchange rate – and ensure that this rate takes effect through a variety of policy mechanisms.
In less than two years, the Bank of Ghana has managed to reduce the policy rate from 26 per cent in November 2016 to 17 per cent in May 2018.
However, the banks are yet to react with the corresponding drop in lending rates.
Businesses are still accessing loans at very high-interest rates making the cost of doing business very costly which in turn makes Ghanaian businesses non-competitive.
Chairman for the Association of Ghana Industries (AGI), Afua Gyamfua Owusu Achiaw, has said industries will need a specialised package and arrangement with the interest rate to encourage local businesses.
"We are still accessing loans at high-interest rates. Interest rates for both industries and those buying to sell are the same, this is not fair.
It should be different and there should be special arrangements with industries to get lower interest rates to work and employ more local people."
Some players in the automobile industry, for instance, have continuously called for lower interest rates at the banks.
According to them, lower rates of lending will make quality vehicles available on the Ghanaian market.
Chief Operating Officer for Rana Motors, Kassem Odaymat, says lower interest rates will reduce the number of substandard vehicles on the road.
"The cost of vehicles will be relatively cheaper; many people can now afford quality cars which will get rid-off rickety cars on our roads. Even the high numbers of accidents and deaths on our roads will be reduced", he said.
Capping interest rate
This is when the Central Bank sets the maximum limit of lending rate above which it becomes illegal for a financial institution to charge.
Interest rate ceilings can be justified on the basis that financial institutions are making excessive profits by charging high interest rates to clients.
The Central Bank's intervention is, therefore, required to protect vulnerable clients from predatory lending practices.
In implementing a cap, the Central bank will incentivise lenders to push out the supply curve and increase access to credit while bringing down lending rates, assuming the cap is set below the market equilibrium.
Kenya, for instance, has adopted interest rate capping since 2016. Its interest capping law became operational in September 2016.
It was implemented following concerns raised by the public regarding the high cost of credit in Kenya, which was seen as a hindrance to credit access by a large segment of the population.
Kenya's lending rate is now 13.64 per cent as of December 2017 from a high rate of about 32 per cent. This has resulted in increased demand for credit.
Benefits of Interest Capping
Capping the lending rate will help the banks to reduce the percentage of non- performing loans as borrowers can now afford to pay the lower interest rate.
This will in the long effect reduce the incidence of high loan defaulting rate.
It will also force the banks to do better due diligence on the credits they grant because they might not recover the bad loans from the higher interest rate.
It is observed that high interest rates among Ghanaian banks are a function of the high operating cost which banks have self-inflicted.
"Whilst banks in Asia and Latin America are investing in cost savers, some banks in Ghana keep on adding cost to their operations. In most countries, for example, high school graduates are bank tellers. In Ghana, it is possible to find masters holders as tellers in most banks. This will undoubtedly increase the cost of operations," Mr Asamoah said.
He adds that the cap should be made in such a way that it will not affect the Central bank's monetary policy.
"For example, it could be set as not more than 4 percentage point above the policy rate".
This will give room to the Central bank to adjust the policy rate upwards as and when the need arises for the Central bank to use its monetary policy to achieve its objectives.
Again, to effectively implement the cap, the centre is recommending the rates of government's treasury bills or securities should be reduced further to make it unattractive to the banks.
This move will ensure that the cap in interest rate does not lead to a reduction in financial intermediation and a shift towards the purchase of government security by the banks.