Corrupt Australian Government Forces Mandatory Vaccinations On Its Citizens To Generate Profit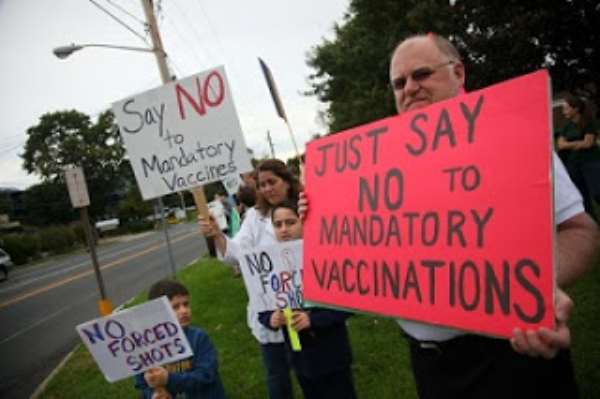 Demonstrators against mandatory vaccination
Australia ignore vaccine dangers and imposes fines on parents who refuse to vaccinate their children
It's very shocking that the Australian government has totally refused to acknowledge the fact that vaccine causes various ailments including autism, claiming "Immunization is the safest way to protect children from vaccine-preventable diseases."
How corrupt are the medical and pharmaceutical companies? Does money generate from vaccine enhances the economy of Australia like other countries? It worth to demand these questions after the Australian government passes a law to fine parents who don't vaccinate their children.
Moreover, Australian parents who refuse the vaccinate their children will lose money, their jobs and their children will be expelled from day-care centers, schools, and kindergartens.
More stupid is the fact that Bill Gates is appointed an ambassador of the vaccine industry, someone responsible for putting contaminated vaccines in innocent Africans causing even pronounced iatrogenic diseases like AIDS.
Bill Gates won't let doctors vaccinate his own children says former private family doctor about the billionaire Microsoft founder and vaccine proponent. But of course, as medics and an objective investigative journalist like Joel Savage, we know doctors won't give that information, at least not without bribery.
According to "Your News Wire," Gates wouldn't let any of his children receive vaccinations. However not long thereafter it was denied and called fake news.
But if so then why do famous journalists publish this kind of fake news and call our articles on Secrets of Aids and Ebola Facts Journal the same although scientifically underlined and while not one single scientist or journalist doesn't want to take our challenge to prove Aids and Ebola aren't man-made.
Anyway, it says everything about so-called renowned scientists, journalists, media, and politicians.
The elites don't vaccinate in California
The news that Bill Gates does not immunize his own children, regardless of being the world's most active advocate for obligatory vaccinations, ought to come as no surprise. Studies prove that the elites don't immunize their kids. However, at the same time, they campaign for the masses to have their children immunized.
Yes, the elite does not vaccinate in California we know that for sure according to statistics, the children more than likely to be unvaccinated are white and originate from the wealthiest families in Los Angeles.
According to a recent study, the percentage of kindergartners with state-issued personal belief exemptions doubled from 2007 to 2013, from 1.54% to 3.06%. That's about 17,000 of the wealthiest children, out of over half a million, pulling out of receiving vaccinations. If Bill Gates' children are amongst them we don't know.
The highest vaccine exception percentages were in mainly-white, high-income areas such as Orange County, Santa Barbara and parts of the Bay Area, according to CNN.
The study, which was published in the American Journal of Public Health, looked at more than 6,200 California schools and found vaccine exemptions were two times as typical among kindergartners attending private academies. The overall conclusion:
"Very abundant and privileged moms and dads like the idea of mass-immunization. However, they wish to avoid the risks associated with vaccinations when it comes to their own children. "They are worried about negative side effects, including autism."
Are smart Australian politicians also a part of this stupidity?
Australian parents who refuse to vaccinate their children will have money taken off them because the government of Australia has passed a controversial new law that has reinforced it's "no jab, no pay" policy by fining parents who refuse to vaccinate their children.
Parents who refuse the vaccinate their children will now lose A$28 (£16) a fortnight from their tax benefits for each child if they're not up to date with their immunizations.
The Australian government previously took an end of year payment to their family tax benefit from families who children were not up to date with their vaccinations, worth A$737. What is the Australian government up to? You can read it here:
Related topic: THE VACCINE UNDERWORLD AND IGNORED COMPLICATIONS IN AUSTRALIA
The Australian newspaper Independent reports: The new fortnightly sanction will see parents lose out on roughly the same amount but is said to serve as a more "constant reminder". Those earning over A$80 a day will also have further penalties imposed.
The move is part of an ongoing clampdown by the Australian government on the "anti-vaxxer" movement after the percentage of children under seven with a "conscientious objection" to immunization rose from 0.23 percent in December 1999 to 1.77 percent in December 2014, according to Australia's parliament.
Minister for Social Services Dan Tehan said the clampdown was necessary to protect public health."Immunisation is the safest way to protect children from vaccine-preventable diseases," he said in a statement, news.com.au reported.
"Parents who don't immunize their children are putting their own kids at risk as well as the children of other people." We are not aware of such facts more than Tehan is corrupt but what he most certainly know is this:
https://www.dantehan.com.au/2014/02/royal-commission-into-union-corruption/ and this isn't meant for nothing.
Not only all governments and Big Pharma companies are "turning a blind eye" to bribery and corruption that allows a few to make vast profits while damaging the health of many of the poorest people on Earth, but especially Australia a new report has claimed.
Transparency International's Corruption in the Pharmaceutical Sector report found that despite as much as $300m (£207m) of annual global health expenditure being lost to corruption and errors: "Genuine commitment to anti-corruption policies by heads of governments, senior government officials and regulatory agencies is currently absent in many countries."
CORRUPTION IN THE PHARMACEUTICAL SECTOR: Why the Health Australia Party is needed?
The Health Australia Party (HAP) is a new political party (2016) and that just had to happen. All Australian health professionals are feeling dark and unseen pressures to alter or eliminate their services to better marry into a Pharma business model that does not hesitate to engage in corrupt practices.
These pressures all relate to the need for more money for this business model to corrupt associated businesses, including education systems. to continuously feed this many-headed monster.
Some transparency and honesty in the political system, Isaac Golden, you are a breath of fresh air. Finally, there is someone of true value in the political circus of toadies and big corporate sell-outs. Let's all vote for the Health Australia Party and toss out the parasites currently feeding off the Australian people and sucking Australia dry. SUPER...
Politicians worldwide are you there? There is a lot to accomplish but first sell your shares in the pharmaceutical industry or better, let us bring you to justice so you can be fined as you did with parents who refused to give their children contaminated vaccines... Indeed; "Smartness is a form of stupidity."
https://www.healthaustraliaparty.com.au/