Unprofessional Police Officers Will Be Dealt With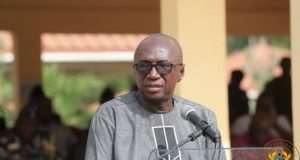 The Minister for Interior, Ambrose Dery, has assured that police officers who engage in unprofessional conduct will be investigated and punished accordingly.
His comments come after about 46 Ghanaian police officers on a peacekeeping mission in South Sudan were recently repatriated to Ghana following for engaging in acts of sexual misconduct in the war-torn nation.
The reports drew widespread public criticism of the Police Service for failing to ensure discipline within its ranks.
In July 2018 a video of a drunk policeman wielding a loaded weapon also went viral on social media which further escalated the issue.
But, in a speech at the opening of the Second Annual Crime Officers Workshop in Accra, Ambrose Dery said all police personnel under investigation for such offenses would not go unpunished if found culpable.
"Let me say that we are taking steps to investigate all allegations against our personnel who went out there to work and we would ensure that should anyone be found guilty the law will take its course and image of the police service will still be maintained. There shall be no compromises on that."
He said they are also in the process of amending police regulations to include sanctions for sexual misconduct.
"I also wish to inform you that there are proposals on the way to amend the police regulations to provide specifically for sexual abuse offenses," he added.
Police to be retooled
Speaking of moves to retool the police service, the Minister revealed that the government had procured over a hundred vehicles which are awaiting clearance at the port.
"As part of efforts to retool and equip the police, Mr. President announced and extra budgetary allocation of GHc800 million to the Ghana Police Service. The government has further provided over 200 pickups, motorbikes, among others as logistics to the service. And as we speak now the service is to receive over 100 vehicles which are at the port awaiting clearance," Ambrose Dery added.
–