Tanzanian pollster under fire over president's poor score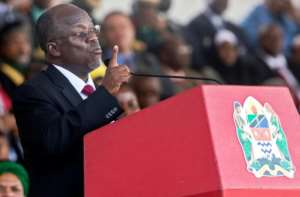 Tanzanian authorities said Thursday they had ordered a local advocacy group to explain itself or face legal action after it published a poll showing President John Magufuli's popularity had dived by 41 percent.
The NGO Twaweza (which means "we can make it happen" in Swahili), last week published the results of an opinion survey on the state of democracy in Tanzania.
The survey of about 1,200 people revealed that citizens felt their freedoms had diminished since Magufuli took office in 2015 as a corruption-fighting "man of the people".
A 2016 survey by Twaweza -- for which they did not draw criticism -- put Magufuli's popularity rating at 96 percent. Their latest research said this had dropped to 55 percent, the lowest recorded rating for a president in the country's history.
At a news conference on Thursday, the Commission for Science and Technology (Costech) acting director general Amos Nungu confirmed the contents of a letter circulating on social media, castigating Twaweza for their research.
"You are hereby required to show cause, within seven days from the date of this letter, why appropriate legal action should not be taken against your organisation by the relevant authority," read the letter dated July 9.
Nungu accused Twaweza of violating "research procedures" and slammed the NGO for publicising the letter.
Twaweza director Aidan Eyakuze denied leaking the letter and said his organisation was "working on our response", which is due Monday.
Ado Shaibu, spokesman for the opposition Alliance for Change and Transparency, accused the government of trying to muzzle Twaweza.
"Opposition parties and the ruling party have often been the subject of Twaweza polls without running into trouble. I think this time Costech wrote to Twaweza because the poll was not favourable to government," he told a press conference Thursday.
Since coming to power, Magufuli has been criticized by rights groups and civil society organisations over his authoritarian leadership style.
Detractors say he has clamped down on opposition and freedom of expression.