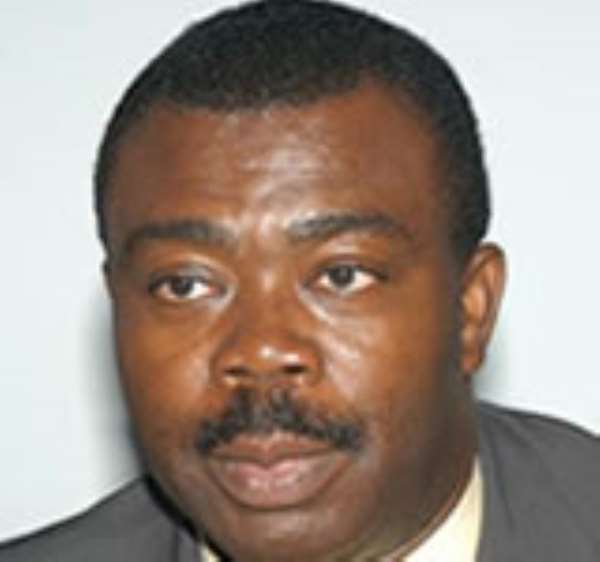 WITH barely two months to the New Patriotic Party's National Congress, the race to become the General Secretary of the ruling party has assumed interesting dimensions, with candidates popping up and dropping down. About a fortnight ago, Kwadwo Afari, NPP Press Secretary, announced his candidature at Tamale. Earlier, Ferdinand Ayim, Special Assistant to Tourism Minister Jake Obetsebi-Lamptey, and Nana Ohene Ntow, Government Spokesperson on Finance and the Economy, had declared their intentions of contesting for the seat vacated by Daniel Kwaku Botwe. Abeiku Dickson, former Deputy National Coordinator of the National Service Secretariat, is also said to be interested in the job. But, none of the names above might have captured public imagination as the latest aspirant.
Stephen Asamoah-Boateng, Deputy Minister of Tourism and the Modernisation of the Capital City, has announced his intention to become NPP General Secretary. Disclosing this exclusively to The Statesman this week, Asa B (as he is popularly known) said: "I have looked at the state of our great party. I have listened to the voices that care and I have come to the conclusion that this is a responsibility that I cannot ignore."
Asa B's candidacy is seen by party activists The Statesman contacted as "very exciting." His intelligence, work rate and no-nonsense, knuckle-tussle with the opposition are seen as excellent attributes for the job. His human relation attributes are also rated highly.
The Statesman can also exclusively reveal that, Mr Ayim, a founding member of the NPP, is prepared to withdraw his candidacy for Asa B. This may come as a surprise to many of Mr Ayim's supporters, because he and Nana Ohene Ntow were seen as the clear favourites for the job.
Though, he would not admit it, The Stateman is, however, reliably informed that Mr Ayim's imminent decision to step down has been wholly influenced by his close family ties with the Foreign Minister. His cousin, Nana Addo Dankwa Akufo-Addo is a clear front-runner as Presidential candidate for the NPP in 2008, even though his supporters express frustration that he is leaving it too late to set in motion the basic groundwork.
The candidature of Mr Ayim, a man who has worked in the belly of the Elephant even before it was chosen as a party symbol, is said to have caused his family and close friends serious headaches. While admitting his run for the position was very meritorious, it was equally strongly argued that his candidacy could be construed as "a referendum on Nana Addo." Also, it was argued that he could be rendered "impotent" as General Secretary since his every move could have been rightly or wrongly interpreted as advancing his cousin's nomination bid. Mr Ayim, who recently lost his mother, has hinted to The Statesman that he would be very willing to throw his full support behind Asa B, his senior colleague at the Tourism Ministry, if he decided to step down and defer to Asa B.
The MP for Mfantsiman West is considered a very serious contender for the post. Party sources who spoke to The Statesman cited his political pedigree, his charisma and "workaholic tendencies", among other things, as attributes that stood him in good stead.
Most significantly, our sources cite the spirited fight he put up in wresting the Mfantsiman West seat away from the NDC in the 2004 parliamentary elections. Born 47 years ago, Mr Asamoah-Boateng has been politically active for over 23 years. Until he fled Ghana in 1984, he served as Youth Organiser of the Popular Front Party from 1980-1984. During the period, he also served in the NUGS Central Committee as International Relations Secretary, where he worked with Dan Botwe and other NPP stalwarts in coordinating opposition to the PNDC government.
Between 1984 and 2000, he was a member and eventually Chairman of the United Progress Party International in London, which organised the Danquah-Busia family members in exile. UPPI members included J H Mensah, Kwadwo Mpiani, and Thomas Broni, former Deputy Interior Minister. He was also a member of the Ghana Democratic Movement, also in London. Mr Asamoah-Boateng served as a Special Assistant to the then Chief of Staff, Jake Obetsebi Lamptey when the NPP assumed political office in 2001. In this capacity, he successfully coordinated the first ever Homecoming Summit. Between 2001 and 2003, he also served as Coordinator of the National Economic Dialogue. In April 2003, he was appointed Deputy Minister of Information, a position he held until April 2005, when he was appointed Deputy Minister of Tourism and Modernisation of the Capital City.
He is the holder of an MBA from Henley Management College-Greenlands, Oxforshire-UK.
Nana Ohene Ntow, 46, also claims a long history of political activism nurtured since the age of seven. He told this paper that he joined his folks in a street march to celebrate the overthrow of President Kwame Nkrumah in 1966. He has over the last couple of years grown to become one of the major champions of the NPP agenda, defending it over the airwaves with intellectual eloquence either in Akwapim Twi or English.