July 11, 2018
|
Feature Article
The Delusions Of Psychopaths And Narcissists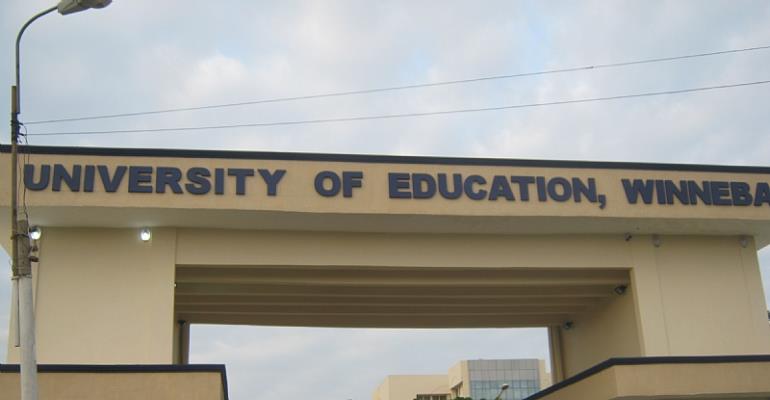 A certain comedian, whose antics easily relegate the feats of Mr. Bean and the late Bob Okala to the background, tickled himself with the joke of the century by claiming to have convened a Press Conference, and issuing a Press Statement on concocted matters regarding the University of Education, Winneba (UEW). Such a so-called Press Statement, can only emanate from a narcissist in a permanent state of delusion.
Therefore, responding to Agyapong Osei Victor, would be tantamount to running out naked from the bathroom in pursuit of a madman who has made away with one's clothes.
With the exception of the former Vice-Chancellor (VC) of UEW, Prof. Mawutor Avoke and his foot soldiers, all right thinking members of society know that Press Statements are normally summarised and reported by the electronic media in the first 2 or 3 paragraphs, followed by a full publication of the unedited version.
In respect of the 'joke', released by Agyapong Osei Victor, and published on modernghana, the above normal practice in journalism, is conspicuously absent.
In addition, Press Statements usually appear in the news pages, and NOT opinion columns, as is the case with the 'funny statement' released by Agyapong Osei Victor.
A mentally competent person will not publish a Press Release in the opinion column of an electronic media, and proceed to disgracefully fail to abide by normal journalistic standards.
Just when the mocking and name calling of Agyapong Osei Victor and his co-comedian Gideon Baiden was settling down, in comes another mentally in-balanced person parading as Robert Ishmael Aggrey-Fynn Amissah, towing exactly the same path as his comrade, Agyapong Osei Victor.
Which media houses covered the 'comedies' released by Agyapong Osei Victor and Robert Ishmael Aggrey-Fynn Amissah? Absolutely none!
It is possible that the Lawyer who represented Robert Ishmael Aggrey-Fynn Amissah, was himself ignorant of the fact that the High Court is NOT bound by its own previous decisions, unlike the Court of Appeal. Therefore, by instituting legal proceedings at the High Court, Accra, against Prof. Ebenezer Oduro, VC of the University of Ghana, Legon, and grounding his arguments on the decision of the Winneba High Court, was not in consonance with normal legal practice.
The decision of the Winneba High Court can be cited to buttress an argument, but NOT argued out in the High Court as a decision binding on the High Court.
Nowhere is it provided under the Limitation Act 1972 (NRCD 54), that an action against a person whose appointment emanates from an illegal body cannot be instituted after 2 years.
If the action instituted by Supi Kwayera against UEW and Others, was Statute barred, the Supreme Court, would have said so when the UEW case went before it in December 2017.
Furthermore, Supi Kwayera never prayed any court for Judicial Review. It is rather the alleged 'butcher' and his blind companions, who questioned the procedure of Supi Kwayera's action at the Winneba High Court, at the Supreme Court.
Prof. Avoke and his gang, have no chance of escaping the long arms of the law. If Court of Appeal and High Court Justices (Charlotte Osei and her 2 deputies), whose security of tenure of office is guaranteed in Chapter 11 of the 1992 Constitution can be removed for blatant violations of the Public Procurement Act 2003, (Act 663), as amended, then, Prof. Avoke and his Finance Officer, should forget of ever getting close to their former positions at UEW.
The procurement breaches by Charlotte Osei and her 2 deputies, took place in 2015, but the actions against them commenced in 2018 (over 2 years after the breaches), and what has been the result? Therein lies the baseless 2 years limitation period story of Robert Ishmael Aggrey-Fynn Amissah and his so-called Lawyer.
Prof. Avoke and his blind followers, must know that, UEW is bigger than them, and no amount of legal proceedings, instituted anywhere in the world, can grind the administration of UEW, to a halt. Their avowed aim of attempting to send a false message to the general public that all is not well at UEW, because they the 'thieves' have been weaned off UEW, has backfired. The false alarms that Prof. Avoke and his 'pimps', occasionally raise in a bid to create fear and panic within the UEW community, CANNOT and will NEVER frighten anyone, except Prof. Avoke and his associates.
Even guns cannot scare the current management of UEW, headed by the Very Rev. Fr. Prof. Afful-Broni.
So, Prof. Avoke, and his paid confused lot, are now copying the President of the Republic, Nana Akufo-Addo, and the Minister of Education, their farcical and unprofessional Press Statements? Are these not the same President and Minister, that Prof. Avoke and his foot soldiers, rained insults on in their various articles, which they cowardly churned out under a series of pseudo names, such as Victor K. Owusu, Prof. Kweku Sofoh, Eric Appiah, etc?
Alhassan Salifu Bawah
(son of an upright peasant farmer)