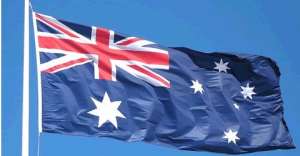 The Australian High Commission in Ghana is set to celebrate the National Aboriginal and Islanders Day Observance Committee (NAIDOC) from 12-14 July 2018.
NAIDOC week is marked annually in Australia to celebrate the history, culture and achievements of Australian Aboriginal and Torres Strait Islander peoples. NAIDOC is celebrated not only in Indigenous communities, but by Australians from all walks of life.
The Deputy Chair of the Australia Council Board, Lee-Ann Tjunypa Buckskin is in Accra to celebrate the NAIDOC week.
This year's NAIDOC theme 'Because of Her, We Can' recognises the essential role Aboriginal and Torres Strait Islander women play as significant role models in the community. Ms Buckskin is one such role model.
Ms Buckskin has a strong history of working with Australian Indigenous artists and is a highly regarded Arts management and policy professional in Australia.
Her areas of expertise include Indigenous cultural preservation and identity; mentoring youth through the arts; as well as using arts as a medium for activism and developing national arts management policy.
These are in line with the mandate of the Australia Council as the Government Advisory body responsible for arts funding and increasing the visibility of Australia's vibrant arts and culture, both domestically as well as supporting Australian artistic excellence.
While in Accra, Ms Buckskin will hold workshops and interactions with Ghanaian artists and industry players to share experiences. She will also host an exhibition of Torres Strait Islander Art and meet with the media.
This visit is Ms Buckskin's first opportunity to travel to Ghana and she is delighted to be sharing her vast experience in the areas of arts policy and strategy to use the arts as a tool for development, cultural rejuvenation and youth mobilization.
Story by Ghana/Myjoyonline.com