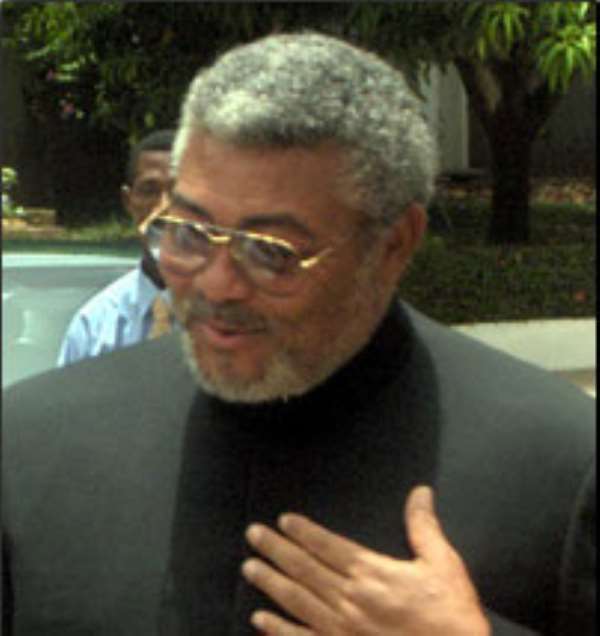 "For those who want to talk about what is happening within the NDC, they must be well informed. Some have said we should not wash our dirty linen in public. But I will say that if we wash our linen indoors and the scent is too much, there is the need to open the windows to let the bad scent out."
This is vintage Jerry John Rawlings, ex-President and Founder of the National Democratic Congress (NDC) in Cape Coast over the weekend. The occasion was the 'Wahala' march in Cape Coast and the NDC Founder was commenting on media reports of the problems of the NDC being played out in the media.
The ex-President's comments come at a time ongoing investigations by the Daily Dispatch have revealed the possibility of the NDC Founder deciding to take control of the party.
Credible reports are that as a first step, the ex-President intends to sponsor a set of executives to be elected at the NDC's National Congress in December to elect National Executives.
For the post of National Chairman, the Founder's reported choice is Mr Daniel Ohene Agyekum, a member of the party's National Executive Committee (NEC) and a former Ashanti Regional Minister in the NDC government. The ex-President believes he will be a better Chairman for the party than the current one, Dr Obed Asamoah.
The substantive General Secretary of the NDC, Dr Josiah Aryeh, currently on leave, is said to be the Founder's choice to maintain his post as against the acting General Secretary, Mr Bede Ziedeng. The Rawlings faction in the NDC has not hidden its displeasure with the utterances of the National Women's Organiser, Ms Frances Essiam, and he would like to sponsor Ms Ama Benyiwa Doe to contest for that Position. The ex-President also believes that the NDC Member of Parliament for Tamale South, Mr Iddrisu Haruna, should concentrate on his parliamentary duties and give way to Mr Fiifi Kwetey.
One method the ex-President intends to use is to have some youth members of the NDC to embark on a series of street demonstration demanding changes, asking for the dismissal of some leading members of the NDC (names withheld for now).