8 Business Groups Target Grand Prize At AgriTech Challenge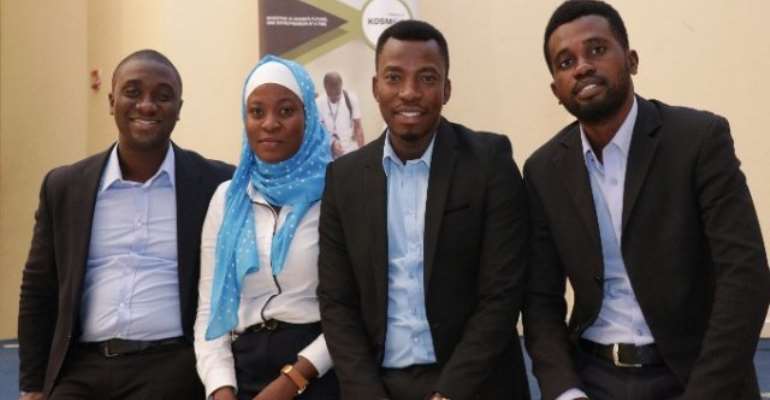 Eight business teams participating in the Kosmos Innovation Centre AgriTech Challenge are now inching closer to the grand prize of $50,000.
The teams were selected from 14 groups who pitched their business proposals to an ideation team last month.
The ideal business proposal is expected to be innovative, technology-based, viable and should provide a solution to a challenge in the agriculture value chain.
Team Shelta
Some of the new business concepts seek to control pest, improve soil quality, link farmers to finance as well as provide them with vital information.
The Kosmos Innovation Centre says the eight successful teams were selected because they presented the "most scalable, practical and innovative business concepts".
Team Soil Solution
The surviving groups will now have a final opportunity to justify why Kosmos Energy and its partners should invest in their business ideas during the last round of the challenge expected to be held in September.
At this competitive pitch event, the teams will be expected to present a Minimum Viable Product, (MVP).
Team QuideX
"The objective of this is to ensure that the entrepreneurs have viable prototypes of their products ready so that they can be tested out by potential future users, customers and investors," said Ruth A. Adashie, Communications Manager of Kosmos Energy Ghana.
"This element was added to the programme structure in 2017 and has proved to be very useful, giving teams the opportunity to really validate their products before the final pitch," she added.
Team Profish (Lojaanor)
The second competitive pitching event held in June attracted Ghanaian and international companies and institutions such as Puma Energy, OCP Africa, Ministry of Food and Agriculture, RMG-Ghana, YARA, KOICA-Ghana as well as the Netherlands Embassy.
Premium Bank of Ghana and the Meltwater Entrepreneurial School of Technology (MEST) have been supporting the AgriTech Challenge since 2017.
Team Farm Cure
But Kosmos Energy wants more corporate organisations onboard to support its quest to provide job opportunities to Ghana's teeming unemployed youth.
Team AgroSol
"Together we can drive sustainable innovation in the agriculture sector and contribute to tackling Ghana's youth unemployment challenge. By empowering one entrepreneur at a time, we are investing in a brighter future," said Joe Mensah, VP and Country Manager for Kosmos Ghana.
Team Growth Factor
The AgriTech Challenge is in its third year and has so far provided seed funding for six start-ups. The Challenge encourages young entrepreneurs to identify and take advantage of the many business opportunities in the agriculture value chain.