Ghana Library Authority, GES Steps Up Efforts To Improve Basic School Literacy In Kwahu West Municipality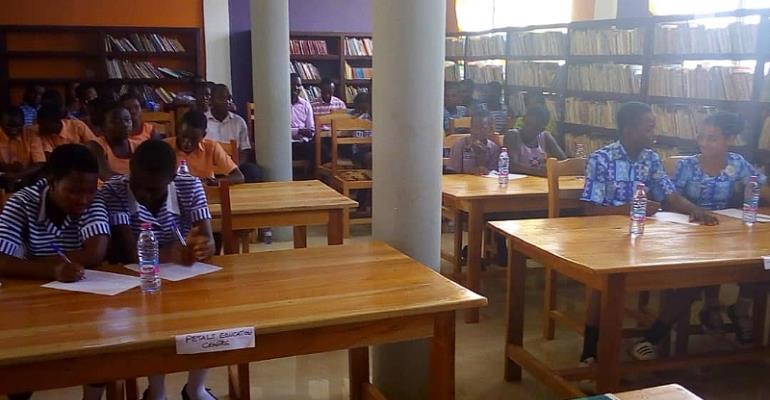 The Ghana Library Authority (GLA) in collaboration with the Ghana Education Service(GES) and the Kwahu West Municipal Assembly has held a spelling B competition among some basic schools in Nkawkaw, as part of efforts to improve spelling and vocabulary of basic school pupils in the Municipality.
Five schools represented their communities in the competition namely, St. Anthony JHS, Presby JHS,Petals Education Centre, Pentecost preparatory school and Akuamoah Acheampong School.
Newly posted education director for the Municipality, Madam Margaret Aku Vormawor, expressed her satisfaction with the performances of the contesting students and adviced organisers of the completion to ensure that the students are giving specific books to study for the competitions.
She also admonished the quiz masters and teachers to encourage the students and not to rebuke them during these competitions because harsh reactions on them in times of difficulties have the potential to put off their zeal.
Madam Irene Ansah, the Municipal Liberian on her part ,explained that the purpose of the competition was to improve upon the spelling and vocabulary levels of the students.She again mentioned that the best performing students will represent the Kwahu West Municipal Assembly in a regional competition at Koforidua next term.
At the end of the completion,St Anthony JHS immerged winners with 87 points with Presby JHS and Pentecost preparatory school following with 84 and 81 respectively.
Madam Irene Ansah finally reiterated that lack of funding, and staff continue to remain a challenge and called on the authorities to come to their aid.