Pay My Money if You have Money for 275 Buses- Asiedu Nketia Tells Blay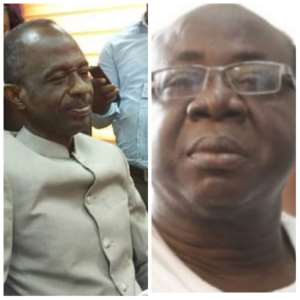 Firebrand General Secretary of the opposition NDC, Johnson Asiedu Nketia has asked the chairman of the ruling NPP Frederick Worsemao Armah Blay, to pay him the money he(Blay) owes him(Mosquito) since he now has money to buy 275 buses for his party.
It would be recalled that a Fast-Track High Court in Accra in February 2014 ordered the Daily Guide newspaper -A newspaper belonging to the NPP Chairman- to pay GHC250,000 and a cost of GHC15,000 to the NDC scribe.
This was after the newspaper had reported barely three years earlier that Asiedu Nketia used his position as a member of the Board of Directors of the Bui Power Authority to divert building materials for his personal building project in the Ashanti region – an allegation the NDC General Secretary vehemently denied and later sued the paper.
Asiedu Nketia later said he planned to build a house with the money and name the house "Kwasia Bi Nti".
However, since 2014 till now, the Daily Guide Newspaper and it's owner Freddie Blay have not paid the money.
Speaking on the decision of the NPP Chairman to guarantee for an $11million facility for 275 buses for the NPP, Asiedu Nketia who is also known as General Mosquito questioned the whereabouts of the money Freddie Blay has to be able to guarantee for such a loan.
He has therefore called on financial intelligence institutions in the country to conduct an investigation into the activities of the NPP Chairman whiles calling on him to bring him his money.