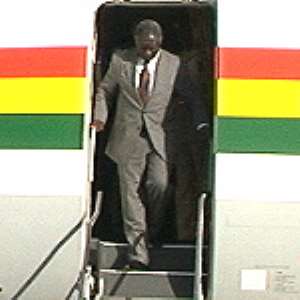 Accra, Sept. 22 GNA - President John Agyekum Kufuor returned home on Wednesday after attending the 60th Session of the United National General Assembly in New York.
The Foreign Minister Nana Addo Dankwa Akufo-Addo and Presidential Press Secretary, Mr Kwabena Agyapong accompanied him.
Briefing journalists on the highlights of the summit at the Kotoka International Airport, the Foreign Minister said the well-attended summit with 170 World Leaders participating reviewed the state of the Millennium Development Goals (MDGs) and the implementation of the agreed reforms at the United Nations and the Economic Social Council. He said Ghana was taking the necessary steps to meet the MDGs by the end of the year.
The Foreign Minister said the summit also discussed the International Convention on terrorism and the prevention of armed conflicts.
He said Ghana supported the African Union's position to seek two seats on the UN Security Council.
Nana Akufo-Addo said when President Kufuor addressed the summit he reminded the international community of the need for an open and equitable international trade.
Nana Akufo-Addo said President Kufuor also met with senior officials of the Millennium Challenge Account on the measures that would enable Ghana to access 300 million dollars to assist in the agriculture sector.
President Kufuor also had a meeting with the US Assistant Secretary of State, where they discussed economic, political and security issues of the West Africa Sub-Region especially Togo, Liberia, Cote D'Ivoire and Mauritania.
He disclosed that ECOWAS would hold a summit at Abuja at the end of the month to discuss among other things the current situation in Cote D'Ivoire.
According to the Foreign Minister, the Chief Executive Officer of Virgin Atlantic, Richard Branson paid a courtesy call on President Kufuor where he renewed his interest to invest in Ghana. President Kufuor also delivered a lecture at the University of Connecticut on "Democratic Transformation in Ghana" and later at a meeting urged the university to forge close links with the University of Ghana.
At the Airport to meet the President were Vice President Aliu Mahama, First Lady Theresa Kufuor, some Ministers of State, the Chief of Defence Staff, Major General Joseph Boateng Danquah and some members of the Diplomatic Corps. 22 Sept. 05