Exposed: Prof. Afful Broni's Subtle Plot To Ensure That Orgormos, A Spartan Member Is Imprisoned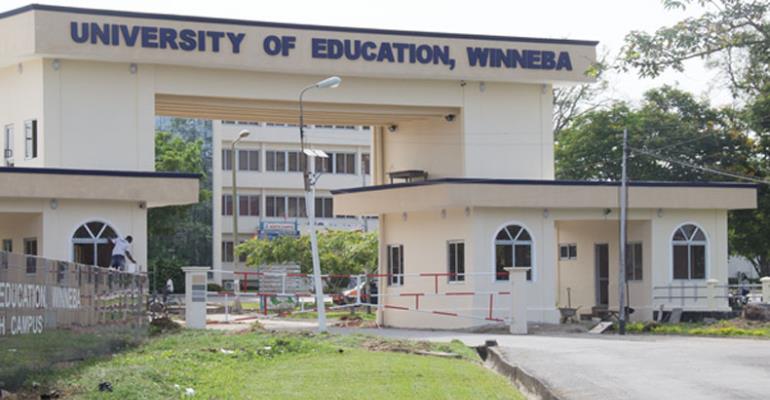 "What shall it profit a man if he gains the whole world and loses his soul" sayeth the Bible. Whether the Bible is a book inspired by God or not, it has proven over the years to be an epitome of knowledge about human beings and we expect that a Catholic Priest knows better. The quest by some select few to hold an entire University albeit via illegal means to ransom has not been thoroughly accepted. As a result, anyone who stands up for the truth is someway and somehow done away with, under very ridiculous circumstances. This time, a very popular member of the Simpa Spartans has been earmarked. The scheme?
Below are some reliable information we have gathered which indicates Joshua's schemes.
1.That Orgormos, a teacher at Ghanatta SHS left his school and came to Winneba to attack him. This is very strange because it is an open secret that there was supposed to be a peaceful protest on the 6th of July 2018. In effect, Orgormos came to Winneba so as to take part in the protest. Well, let's see how Joshua intends to 'manufacture' evidence to that effect.
2.That because Orgormos was the first to approach him at the Right step bar, Orgormos had planned to hurt him. The question is: If Orgormos meant malice, would he have said in the open that he was the first to approach Joshua? The fact that Right Step is a popular bar doesn't imply that Joshua is always there. For God's sake, Joshua is an assistant lecturer. The question which ought to be asked is how Joshua got to know that a meeting of the current and old students of UEW was taking place and what he went there to do. If Joshua didn't mean any malice, let him explain how the shirt Orgormos was wearing on that fateful day got torn.
If Joshua claims he was assaulted, I dare him to point out the part of his body that was hit by Orgormos. Oh, we have also gathered intelligence that Joshua intends to 'manufacture' a fake hospital report which will implicate Orgormos.
In what capacity and under whose authority did Lexzis and Nana Godfred meet with Orgormos and some Spartans to inform them that a new palace was being built for them by management of the university? Lexzis and Nana Godfred, who sent you or were you posing as members of the university's management? In any case, doesn't Simpa Hall have a hall manageress? If it was true that a new palace was being built for the Spartans, why didn't the hall manageress inform the Spartans?
We want to find out how Joshua got copies of documents entailing a meeting which took place between the Spartans and the university's management. Joshua was not present at that meeting, doesn't work in the office of Prof. Afful-Broni, doesn't work in the administration and doesn't work with the school's security so how did he get hold of such documents? In fact, Joshua had absolutely no part to play in that meeting and so if he isn't being influenced by Prof. Afful-Broni or doesn't have malicious intents, let Joshua tell the whole world how he got hold of those documents and what he intends to use it for.
UEW has been beleaguered with so many issues and it is very strange, if not even ridiculous for an Acting. Vice Chancellor to make "fighting" a harmless pressure group his topmost priority.
In any case let us assume that Orgormos threatened Prof. Afful-Broni. Logical questions to ask are: how and where did he threaten the Actng. VC? I am reliably informed that Orgormos had an exchange of words with Lexzis. So let's assume that Orgormos threatened Prof. Afful-Broni whiles exchanging words with Lexzis. In any case, what was Lexzis's interest in reporting to the police that Prof. Afful-Broni was threatened by Orgormos? Is Lexzus Prof. Afful- Broni? Even if Orgormos threatened the Actng. VC which isn't the case, is Lexzis saying that he reported the matter to the police without informing Prof. Afful-Broni? All these are clear indications of the Actng. VC's schemes against an old student of UEW and to a greater extent, the Simpa Spartans. What does the Actng. VC have against a pressure group which he cunningly "used" in building the Holy Spirit Catholic Church, situated at UEW'S North Campus?
Let Joshua also bring out that tape where he claims that Orgormos threatened Prof. Anthony Afful- Broni. We want to tell Joshua that we are aware of his schemes with the Actng. VC and that whenever he proceeds to court, we are ready. We have absolutely nothing to fear.
Is it true that Joshua was made an assistant lecturer in Psychology and Education because of the fact that he has been doing the bidding of the Actng. VC.? Why should a university prioritize favoritism and nepotism over competence?
The truth, unlike a lie needs no support to stand. On the other hand, a lie, just like a cork cannot be submerged under water forever. The moment the hand holding the cork down is removed, the cork [the truth], will pop out for all to see.
Posterity will judge us all.
Raymond Arhin
[email protected]