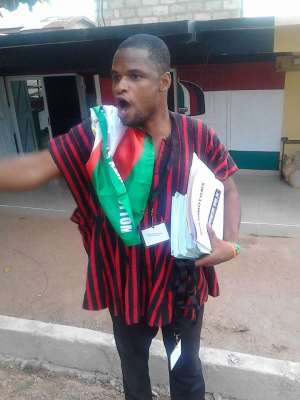 Efo Worlanyo TSEKPO
I was not shocked when the President announced that the Deputy Sports Minister has been cleared in the infamous Australia Visa scandal and will be reinstated today.
That was exactly what everyone in Ghana was expecting because lots of people who are supposed to be in jail for corrupt acts today have all been cleared by the President of the Republic, our Chief Clearing Agent.
Over 28 corruption cases have been recorded since 7th January 2017 after the administration of the country was handed over to Nana Addo and his Npp.
1. Boakye Agyarko's alleged bribery of Parliament to approve his appointment as Energy Minister.
2. BOST's 5m contaminated fuel scandal; whereby BOST allegedly contaminated the fuel and sold it at GHC 1 per liter instead of GHC 2.5 per liter. This scandal is supposed to have deprived Ghana of GHC 7.5m (75bn Cedis).
3. KenBond $2.25bn scandalous deal, which compels Ghana to cough up about GHC 400m annually for 15 years,
4. Fake army worms chemicals, which cost Ghana GHC 16m (160bn Cedis).
5. Premix fuel scandal (200 diversions), at a cost of GHC 22m (220bn Cedis).
6. Inflated cost per one borehole at GHC 132,000 (1.32bn Cedis),
7. Cost of website for Ministry of Special Initiative at GHC 800,000 (8bn Cedis),
8. Cost of 2018 Budget preparation alone at GHC 2m (20bn Cedis),
9. MTT (USA) training for 13 staffs of NEIP, NSS etc. at $300,000 (GHC 1.35m)
10. NLA Boss, Kofi Osei-Ameyaw dubiously awarded 11 contracts to his sister in-law in one day.
11. Cash for seats scandal involving Trade Ministry and the flagstaff house whereby expatriate businessmen paid $100,000 each in order to sit closer to President Akufo-Addo.
12. BOST scandal 2 involving the disposal of 1.8 million barrels of crude sold at a discounted price of $2 per barrel depriving Ghana of GHC 23m (230bn Cedis)
13. Australia visa fraud involving 61 NPP supporters who faked as journalists, arrived in Australia but have no clue as to why they were there and eventually got deported,
14. MASLOC's 1,800 Panda secondhand vehicles sole-sourced at GHC 28.8m (280bn Cedis)
15. Metro Mass Transit scandal involving the importation of 300 buses whereby the MD and Procurement Manager were caught on tape coaching a client on how to win the contract to import the buses.
16. Prez Nana Akufo Addo allegedly spent GHC 9.5m on the renovation of his private house and GHC 100m on similar renovation of Peduase Lodge, Aburi.
17. Prez Akufo Addo is also alleged to have spent GHC 41m (410 billion Cedis) on foreign travels.
18. Ghana Export Promotion Authority CEO Gifty Klenam, blew $11,422 on a 2-day forum in Hungary from 25-26th October 2017. The CEO also increased her salary from GHC 5,000 to GHC 22,000.
19. The Chairman of the GCMC Board, Mr. Frank Boakye Agyen's, tussle with the CEO of GCMC over the awards of dubious contracts to cronies, leading to the suspension of the CEO and the overturn of the suspension by the Ministry of Energy.
20. Citing of US Army base in Accra for only $20m. 21. $1.2bn dubious NIA Ghana Card contract, which Ken Agyapong, NPP's lawmaker claims his company can do the same work for only $50m.
22. NPP's 6-Unit classroom block at GHC 770,000 as against NDC's GHC 450,000 in 2016.
23. GHC 10m dubious loan to McDan Shipping Co. through a strange order from Ken Ofori Atta, Minister of Finance.
24. [email protected] – GoG funds the celebration with GHC 5.26m, even though Akufo-Addo claimed Ghana was not going to spend a pesewa.
25. $178m scandalous deal with a questionable company Kelni GVG by Communications Minister, Ursula Owusu, for 10 years with automatic renewal clause. $7.5m already paid for no work done by Kelni GVG.
26. NHIA $3.31m scandal exposed by audit report in May 2018.
27. GFA President, Kwesi Nyantakyi's allegation that he has the president in his pocket and that Prez Akufo Addo, Vice President Dr Bawumia, Deputy Roads Minister can be bought for $5M, $3m and $1m respectively.
28. GHC 10m Ghana Ports and Harbour Authority scandal involving the Board Chairman Peter Mac Manu and the award of contracts to his wife and three children.
During the time of President Kuffour,an accountability desk was created under the office of the President with astute lawyers whose jobs were to find possible ways of clearing and cleaning daily various corruption cases in President Kuffour's government. So by the time they left office they had left a clean sheet without any black spot.
My beloved party NDC is different. Anytime we are in government we behave as if we were part of the team that teamed up with God to create Heaven and Earth.
We behave as if we are the only people who are wise and wanted to be as clean as snow.
We easily forget the contributions of others to bring us to power. We always behave as if the Npp are our masters who we have to report to.
We threw Muntie 3 into jail because they harmlessly made a statement which could not even kill a fly. It took party members to sign a petition before our President released them after spending weeks in jail for defending the party in the name of Rule of law.
Npp Delta forces entered the office of the national security coordinate, beat him up and dragged him out of his office. Later they entered a court and beat up police officers and judges and freed their boys and they were asked to pay 1,800 as a fine. That's the difference between NDC and NPP.
Hon. Afriyie Ankrah was crucified by our own party people in the name of playing safe even after a Presidential committee cleared him of any wrong doing.
Woyome suffered the worse and handed over the button to Abuga Pele who we finally jailed.
*The latest was the double salary issues our Members of Parliament were tagged. I was surprised we never learnt our lessons but rather helped the Npp media to heavily chastised our Mps without even knowing the details and genesis of the issue. We all know how strategic the Npp is in pushing a normal conversion into been a criminal act.*
No wonder Charlotte Osei was sacked because of procurement breaches but Ursula Owusu is walking round a free woman.
We should have known all these while that whatever is white in NDC becomes black in the Npp and shouldn't try to dance to their tune. But NDC always shriver when the Npp coughs.
We allowed Georgina Wood to bully us for eight years and later retired under her own party.
I remember when President John Mahama advised us to support his appointees who will be persecuted by the Npp, one of our officers quickly came out to condemn the former President but shortly afterwards he was found in the hook of the Npp and needed the support of his party members. Though the party including the former President JM stood by him until his release
A lesson to all of us. I pray we change in our next government in 2021 and burry the "father for all syndrome" because running a political party isn't the same as managing a Deeper Life Church. Let us learn to defend our own.
*#PossibleTOGETHER🤝* *Efo Worlanyo TSEKPO* B/A REGIONAL YOUTH ORGANIZER HOPEFUL.