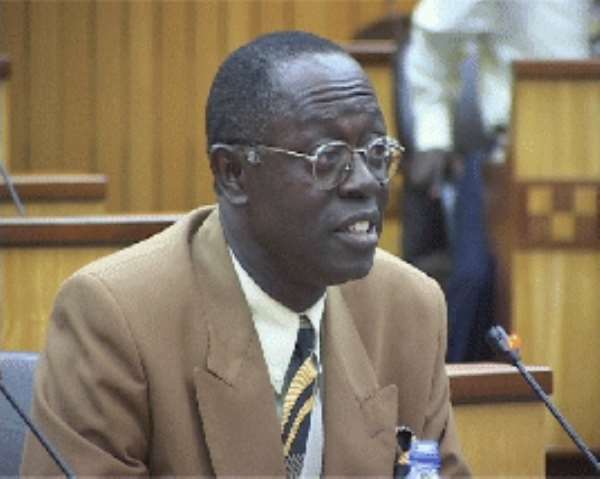 .... Ghana compared to George Orwell's Animal Farm ... All men are equal, but some are more equal than others THE NPP government's decision to support politicians interested in going into the cultivation of oil palm plantation in the country, on Wednesday, received a lot of flak from across the Western and Central Regions. Various callers and SMS Message senders to radio stations severely criticized the Minister for Private Sector Development and Presidential Special Initiatives (PSI), Mr. Kwamena Bartels and the NPP for what they termed, "a scheme to reward politicians while ordinary people suffer". During a meet the Press series in Accra yesterday, Honourable Bartels is reported to have said that the government would give the necessary support to Members of Parliament (MPs) and ministers with land to cultivate oil palm.
The listeners accused the NPP government of trying to enrich its members by cunningly roping in other politicians as a pretext to cover up its intention to make money for the members.
They likened the decision to George Orwell's Animal Farm, where All men are equal, but some being more equal than others, adding that this was a typical case of "Obi ye Obi".
According to them, it is the politicians who enjoy whilst the electorate suffer, and cited the $20,000 car loans as a memorable example.
They said the NPP came to power with a lot of promises including offers of employment but had woefully failed to deliver. What the government should rather do was to help the youth under the PSI.
Some suggested that the military, religious bodies and other institutions could be considered rather than limiting it to politicians, who they claimed seek their selfish interests.
Also under attack was the Environmental Protection Agency (EPA), for its stand in the fracas between the people of Prestea and Bogosu Gold Limited (BGL).
The callers lambasted the EPA for ignoring its own guidelines which they said states that mining operations can only be conducted within a radius of 500 metres from a community.
They said the Environmental Monitoring body went ahead and issued the Environmental Impact Assessment certificate to the company in contempt of its own laws.
The callers said giving the concerns raised by the people of Prestea, the onus lied on the government to see to it that the community is resettled by BGL.
Citing Goldfields Ghana Limited and Anglogold Ashanti (Iduapriem) Ltd (formerly GAG), which resettled the communities of Atuabo and Iduapriem in their catchment areas when they saw that their operations would affect them, they urged BGL to do just that so that they can have their peace.